I jumped into blogging in 2011 after purchasing a health related blog. It was already making around £500 a month and had the potential to make even more.
Being fairly new to blogging at the time, I had to quickly learn how to setup a blog, manage the blog and most importantly, keep the money coming!
Fortunately, the person I took the blog over from was very helpful and supportive and over 4 weeks I learnt how to start and run a blog from scratch.
On the downside, the blog stopped making money after a few months, which is a story in itself, but I learnt two key things:
Don't buy a site without trusting the source of revenue

Start a blog for passion, not for money.
To avoid this posting getting any longer than it needs to be, we're going to focus on number 2: how you can start a blog around a topic you are passionate about.
You see, because I wasn't passionate about the blog, I had no reason to keep it when it stopped making money. So, I ended up selling the blog for 10% of the original value. 🙁
That's why if you're wondering how you can start a blog, please do yourself a favour and follow your passion. The money will follow.
The purpose of this post is to show you how you can go from "How do I start a blog" to "I'm the proud owner of a blog", step by step.
Note: if you're looking for an end to end process to design and build a website for SEO (not a blog) then this post might be a better fit for you.
9 Steps To Starting Your First Blog
We will also cover some easy blog promotion steps and other questions you may have.
1. Why Start A Blog?
There's a number of benefits to starting a blog, I'll list a few here:
Become A Thought Leader And The "Go To" Expert In Your Industry
When you share your knowledge and expertise freely with the world, people will naturally begin to recognise you as an expert in your niche.
At first, your friends and family will begin to learn about what you do, and then as your blog grows, so will other people.
And when you establish your expertise in a particular niche, you will find doors opening for you that you may have struggled to open before the blog life.
For instance,
My digital marketing agency was mentioned by Instagram at a food conference in 2017 after we blogged about an Instagram food research study we conducted.
I continue to be approached by prospect customers who have come across my blog and decided they need my help growing their business online, either via personal coaching or done for you services via my agency.
I've been asked to speak at events. My blog also allows me to give people an overview of my area of expertise and reassure them that I do know what I'm talking about.
Share Your Passion
This one's my favourite.
I spent around 3 years attending marketing related seminars and buying courses online before realising that most of what was being taught to me was from people who were not actively marketing their own or client businesses.
In other words, I was being trained by people who were teaching based on theory only and not practice.
When I started my digital marketing agency, I knew I wanted to fill this gap.
Helping businesses day in day out via my digital marketing agency puts me in a pretty powerful spot to then train people who are in the same position I was during those 3 years of "figuring things out".
Plus, if you haven't guessed already, I love (like bottom of my heart LOVE) online marketing, and is the only topic I actually enjoy blogging about.
Make Money And Be Your Own Boss
Building your blog audience puts you into a strong position to monetise your passion and become your own boss.
The best thing is that you can do it from anywhere in the world.
Many blog owners are travelling the world or working from home and are making money blogging. But there are also many others who have been blogging for years and not making a penny.
The difference between bloggers who make money and those who do not, is having a thriving audience engaged in your content.
But, what I like about starting a new blog is that it costs next to nothing to get up and running, making your overall risk very low.
FAQ: How Much Does A Blog Cost? If you use my recommendations below, you can start a new blog for as little as £5 to £10. As your blog and online income grows you can always start scaling with premium tools and services.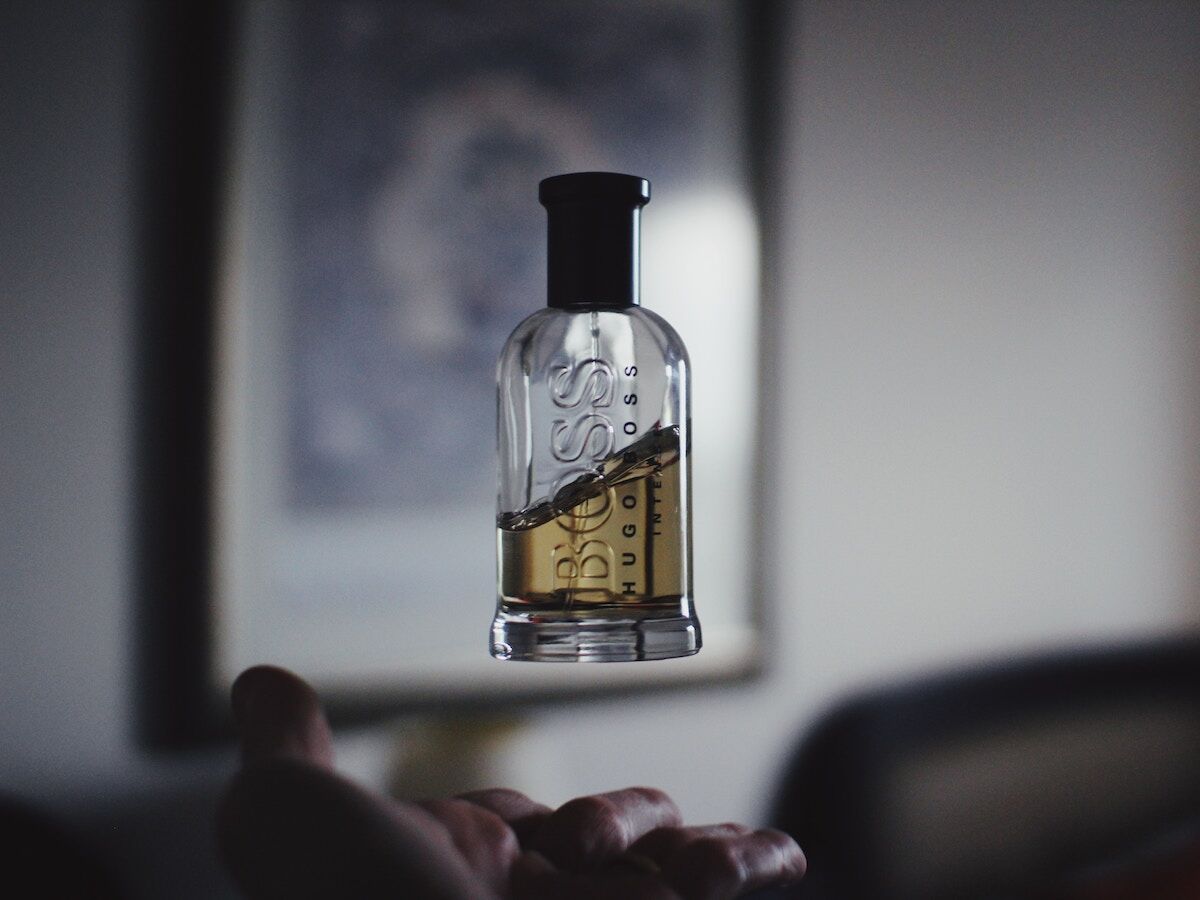 Get More Exposure For Your Business
When it comes to growing a business online, it's pretty difficult getting people excited about a new service or product.
Well, blogging can help you get over that hurdle.
Because if you want to create a successful blog, you need to write about things that people are interested in.
And, what are people ALWAYS interested in knowing?
Finding solutions to their problems.
So, if you can write about your audience's problems and give them tips, tricks and even inspire them, there's a good chance you're new blog is going to drive engagement.
Products and services don't engage people (unless it's a really cool of course), solutions do.
Blogging also enables you to build a relationship with potential customers first and is therefore a softer sell for your business.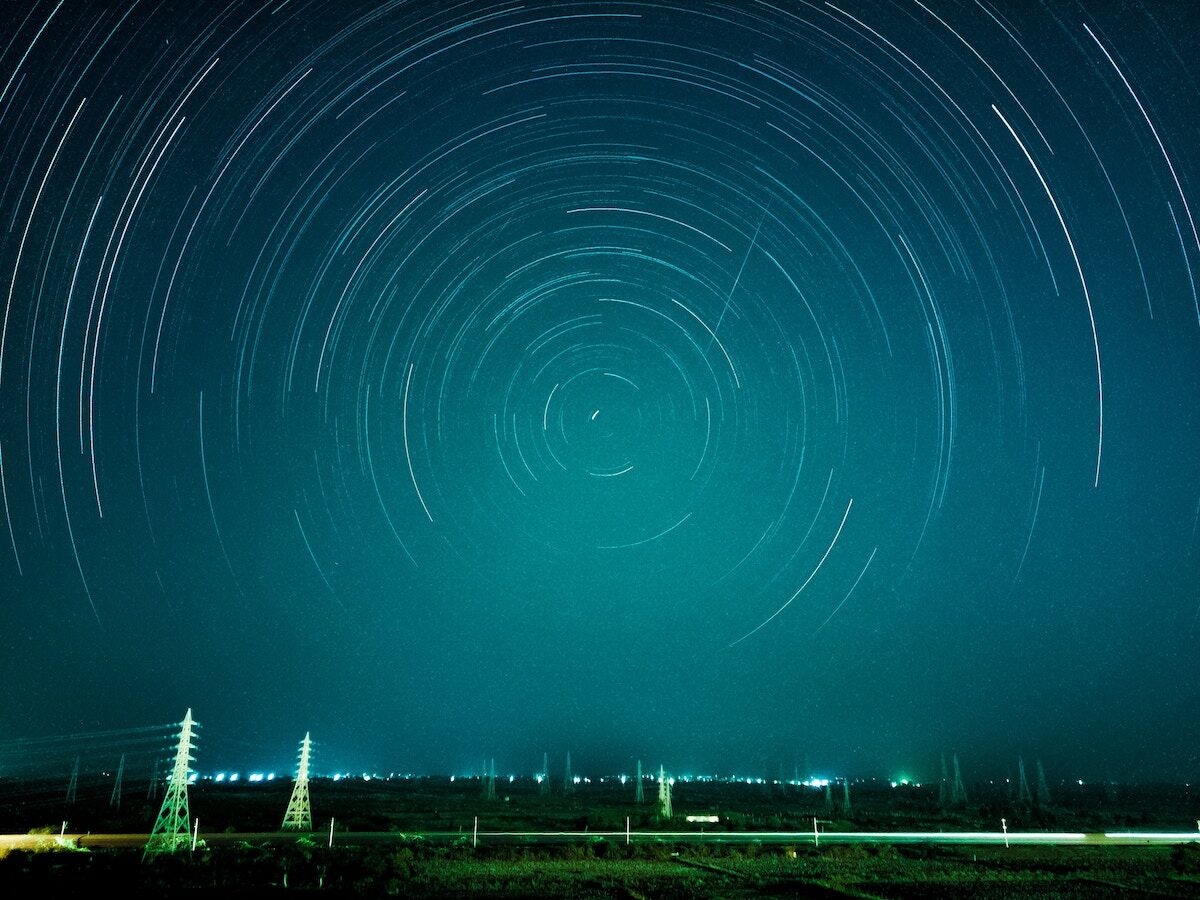 Become A Published Author
If you want to seriously improve your chances of working with a well known publisher and getting them to publish your book, you need an online presence.
To take it a step further, if you actually want a group of publishers begging you to work with them and have your book sell out, you need an audience.
Selling a book to people who already know and like you is much easier to do.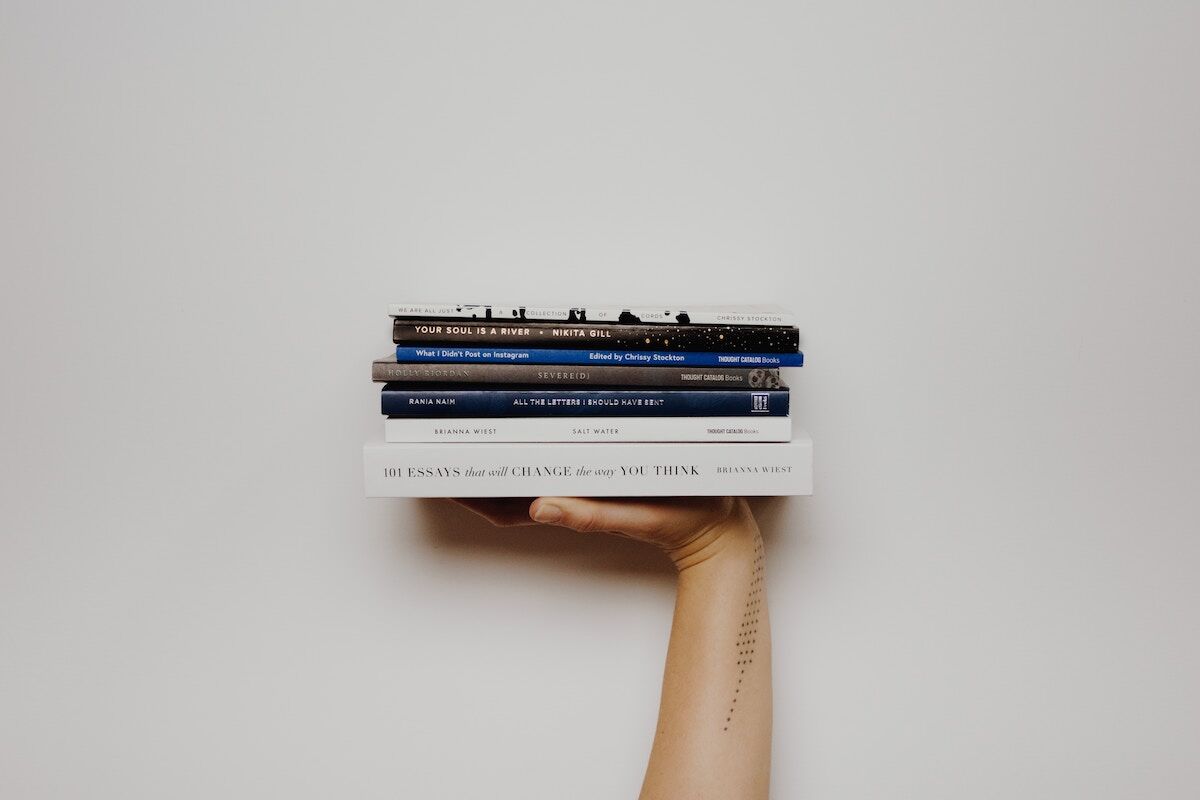 Improve Your Writing
When I first started blogging, I really struggled to find a rhythm and would end up taking at least 8 to 10 hours to complete one post.
Part of the reason why it used to take me so much time blogging was because I never felt my writing was good enough for the world to see.
See, I've been reading blogs for at least 10 years, and always wanted to blog like "them".
It's why when I first started blogging I was imitating other bloggers and trying to sound like "them".
I was being inauthentic and I was not enjoying it.
That's when I decided to write as close to how I speak. I'm finally being me.
To be perfectly honest with you, I still don't think I'm the best writer, but I'm being true to myself and that's more important to me than anything else.
To conclude, be you. 😉
2. Decide What To Blog About
If you're planning to start a blog to help promote your services or product, then naturally you're blog will be about the niche you are in.
If you don't have an existing business, then you have quite a bit of flexibility with selecting the right topic for you.
I recommend ensuring your blog topic fits the following criteria:
You are passionate about the topic

You have more knowledge about the topic than the average person

The topic is niche specific and not general e.g. "life coach" is general but "business coach for women entrepreneurs" is specific

Blog about something that people are interested in learning about

Choose a topic where there is evidence that people will to pay money for

You are confident about making this one of the most successful blogs in this niche (with time, of course)

You are excited about starting a successful blog around this topic.
If you want to go deeper into the topic of creating content, I'd recommend reading my post on creating an omnichannel content strategy.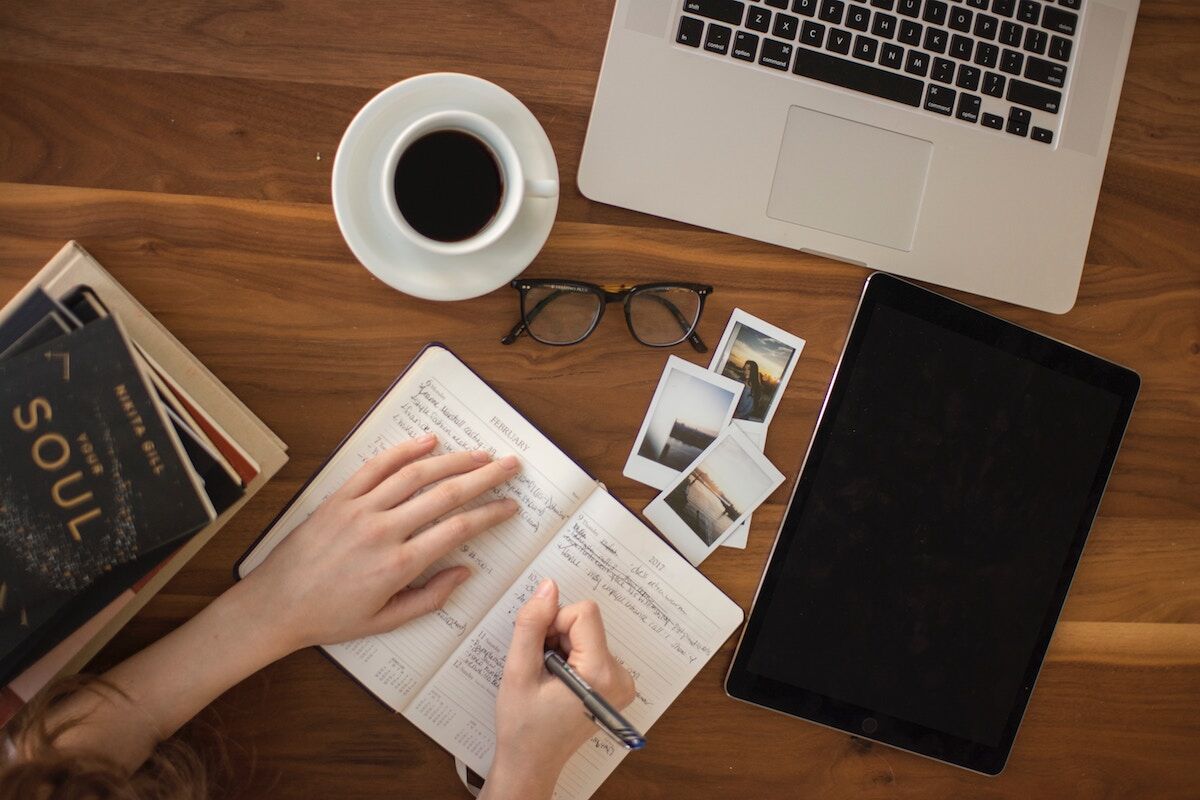 3. Decide Who Your Blog Is For
A common mistake is focusing on what you want to blog to be about and what you're most interested in.
But, remember, you're blog is not for you. It's for people who are interested in your content, right?
So, who are these people?
Now, that's the question, every aspiring blogger should be asking themselves.
Because when you create content for everyone, you are actually creating content for no one.
It took me over a year to officially launch Your Brand Found. I knew the TOPIC I wanted to create content around, but not WHO it was for.
Knowing who is going to read your content is going to simplify your blog life and massively improve your chances of growing an audience online.
For instance, I know my core audience are either not technical or don't enjoy that side of building a brand online and that's why I try to avoid super technical or boring topics.
4. Buy A Domain Name
A domain name is essentially a web address like neilsheth.marketing.
If you're still wondering what domain name to pick, go for something simple that tells people what the site is about, or, if you're really struggling, use your name.
I recommend purchasing your domain from GoDaddy.
Search for your domain in the top bar.

GoDaddy will then tell you whether the domain is available.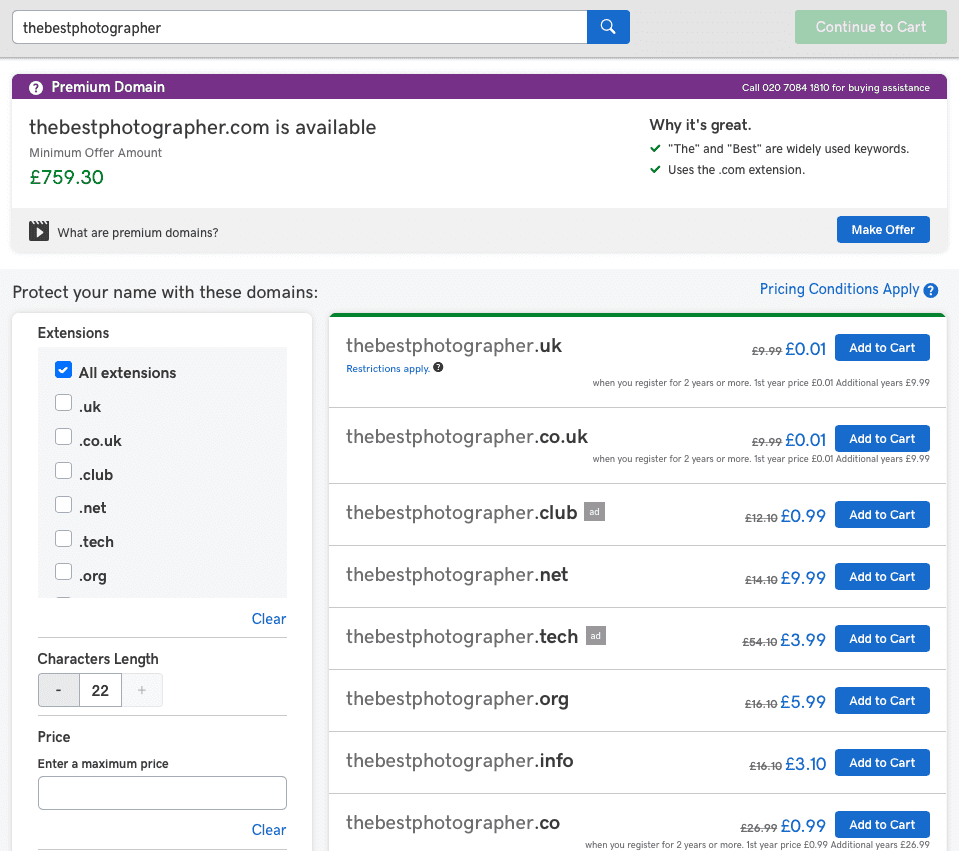 For the purposes of this example I'm going to add "thebestphotographer.co.uk" to the cart.
Once you've clicked on "Add to Cart" click on "Continue to Cart".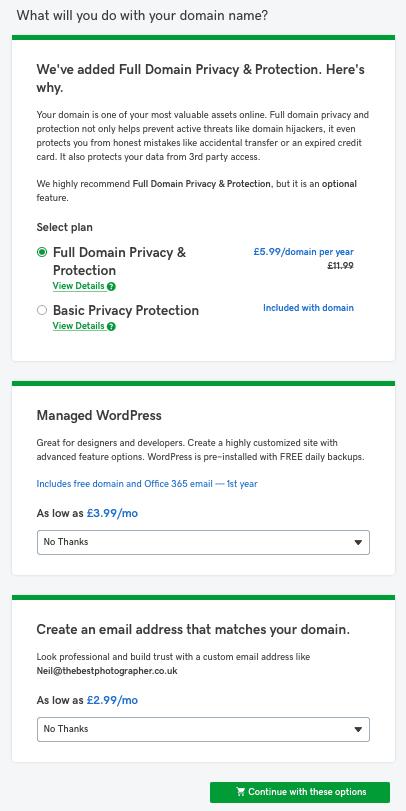 I prefer to purchase "Full Domain Privacy & Protection" to hide my personal details and will leave the rest of the options as "No Thanks", and select "Continue with these options".
Finally, assuming you don't have an account with GoDaddy already, click "Create Account" and finish securing your new domain.
As you can see GoDaddy are trying to upsell a bunch of other products and services. Just ignore them.
5. Find A Host
Time to actually start setting up your new blog.
First, let me explain what a host is.
A host is required get your blog found online. It's essentially a server holding the files and folders related to your blog. Think of it as having a physical hard drive, but just on the internet where you can save your blog to.
What Host Should You Use?
If you're a newbie blogger then you don't really need to worry about any premium hosting services. You just need to start with something small and reliable.
I recommend a host I have personally been using for a number of years now and have recommended to clients.
The reason I recommend this host is because they are price competitive and most importantly, they have the best customer support who are always ready to fix issues for you.
If you would like to sign up to the host I recommend, go to Siteground and start your own blog.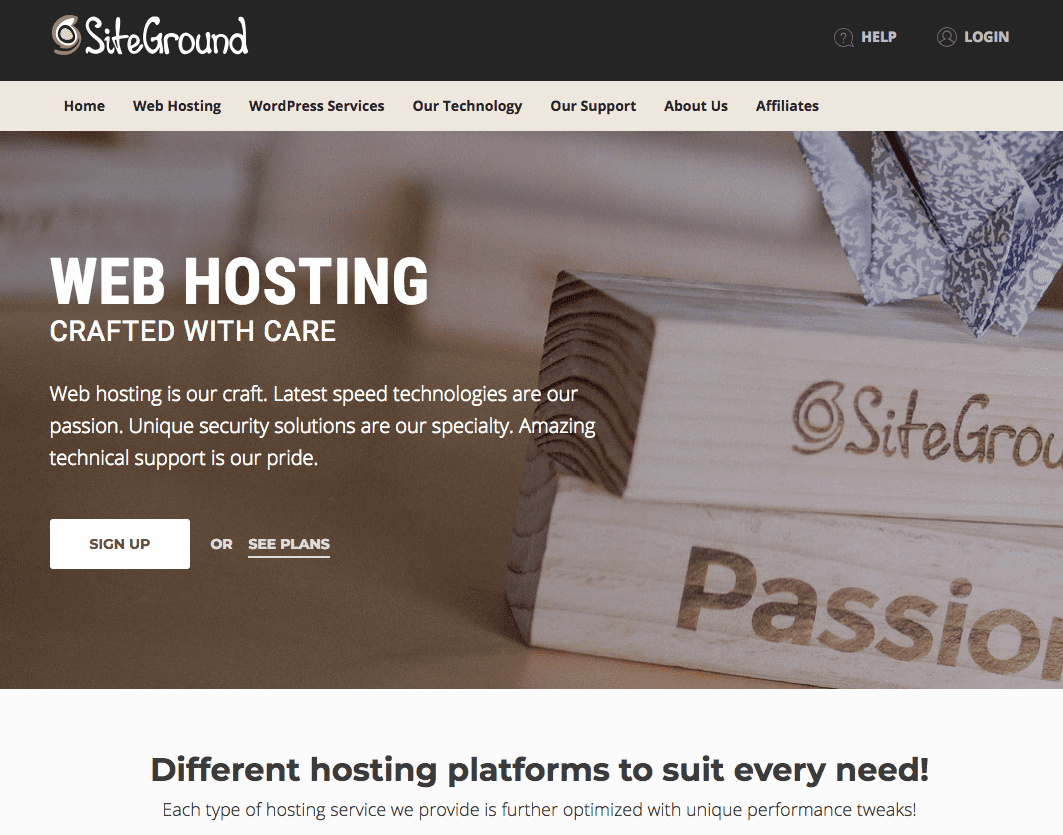 Select Your Pricing Plan
Click on Web Hosting and then choose Shared Hosting.

Go ahead and choose the plan most suitable for you. My recommendation for new bloggers is go for the "GrowBig" package as you get much more space for just over a £1 a month more. You don't need "GoGeek" right now.
Next, enter the domain name you have already registered into the box below.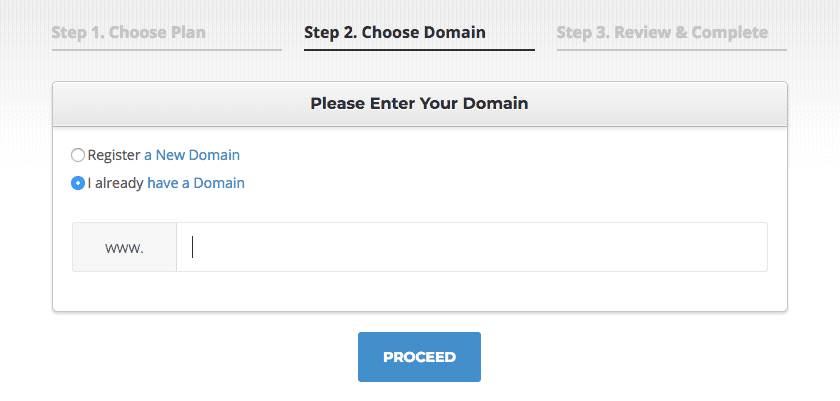 You're nearly done. Just add your account and billing details and don't bother paying for any of the extras.
The host for your new blog is now setup. Congratulations! 🙂
Link Your Domain To Siteground
Now that you're host is setup, you need to link your domain to the host.
Since you have registered the domain elsewhere (e.g. GoDaddy), you will need to change the nameservers in GoDaddy to Siteground.
Log into your Siteground account and click "Manage Account" and ensure the "Information & Settings" tab is selected.
You will find the nameservers for Siteground under "Account DNS" starting with ns1 and ns2, as you can see below.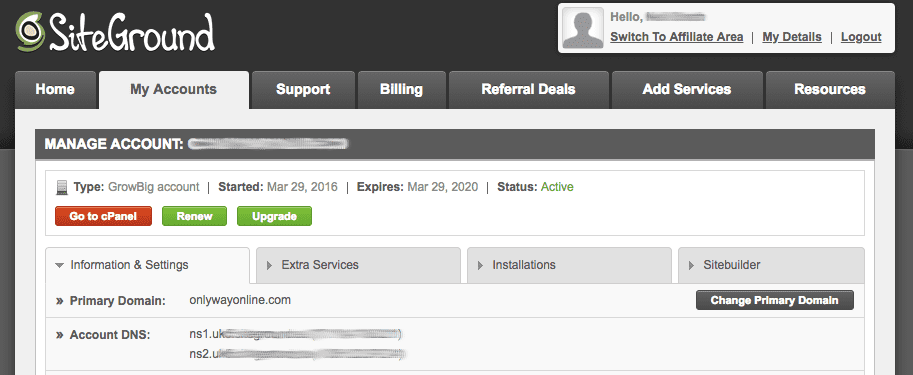 Next, you need to log into your GoDaddy management tool to change the DNS (nameserver) settings to reflect Siteground's nameserver. Doing this will enable you to link your domain to your host.
Once you've logged in, click "Domain Manager", which will take you to your domain list. Select the domain you want to change and then find "Manage DNS" within the settings section.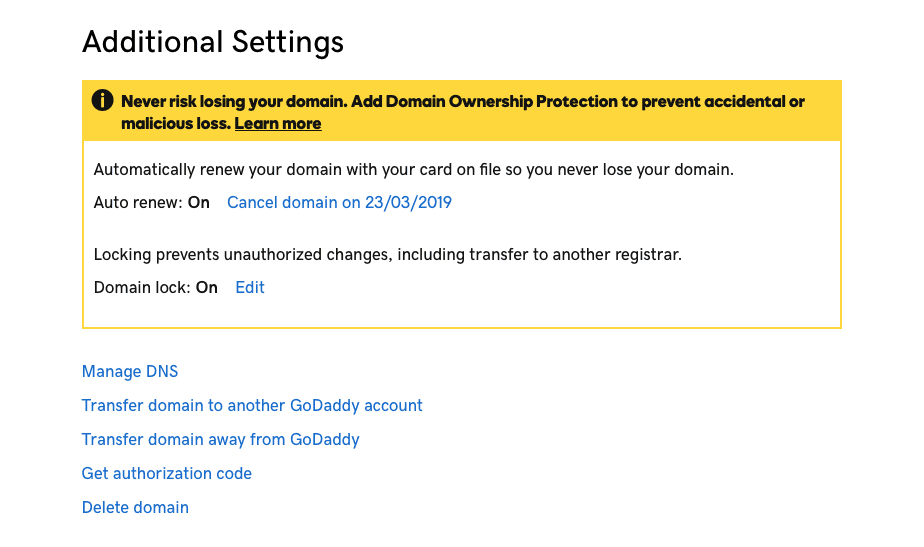 Then click "Change" under Nameservers.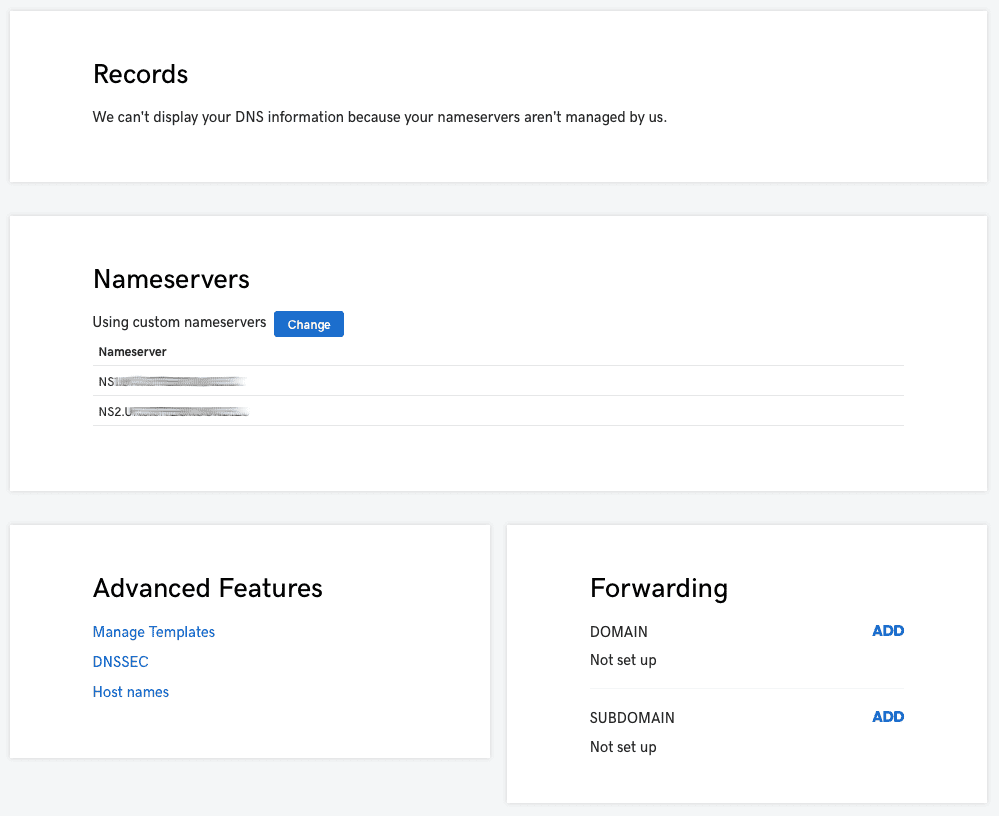 Now, enter both of the Siteground nameservers you identified earlier into the boxes below and click "Save".

After completing this step, your domains have been successfully pointed to your host.
Note, it can take anywhere between around 24-48 hours to propogate the nameserver change and get your domain fully linked to Siteground.
Domain Add-on
Nearly done. Only one more quick step to go.
You need to add your domain to Siteground to host your domain in Siteground.
First, log into your host, Siteground and click on "Manage Account".
Click on "Go to cPanel".

Select "Addon Domains".

Now, fill in the following details:
New Domain Name:

 the domain you would like to add to your host i.e. bestcryptocurrencytoinvestin.co.uk

Subdomain or FTP Username

: this field is automatically populated when you input the new addon domain name, but you can change it. The information you put here will be the name of the new subdomain and the name of the new FTP account. You don't need to worry too much about this right now.

Document Root:

 

document root of the newly created domain name

Password:

 

password for the new FTP user that will be created.

Password (again):

 same as above.
Once filled in, hit "Add Domain".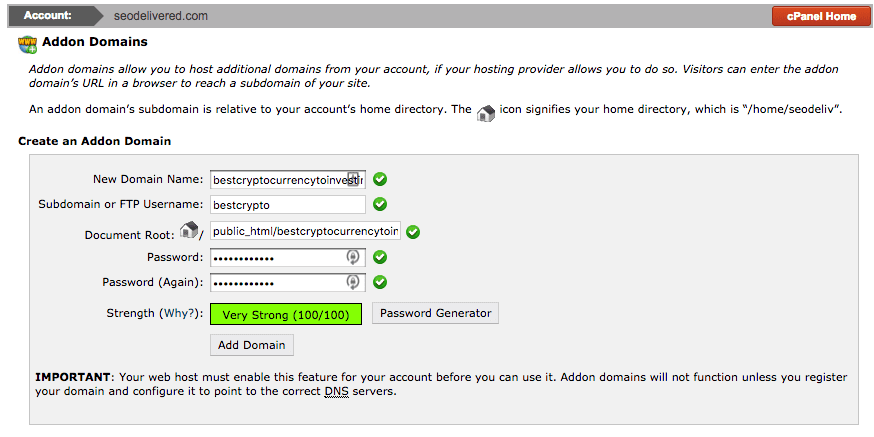 That's it! You're new domain has been added to your hosting account. You are now ready to pick your blogging platform.
6. Once You Go WordPress, You Don't Go Back
One of the biggest debates amongst newbie bloggers is around what blogging platform to use.
If you want to skip the debate, then go with my recommendation, WordPress, self-hosted version. You can then skip this section by clicking on this link.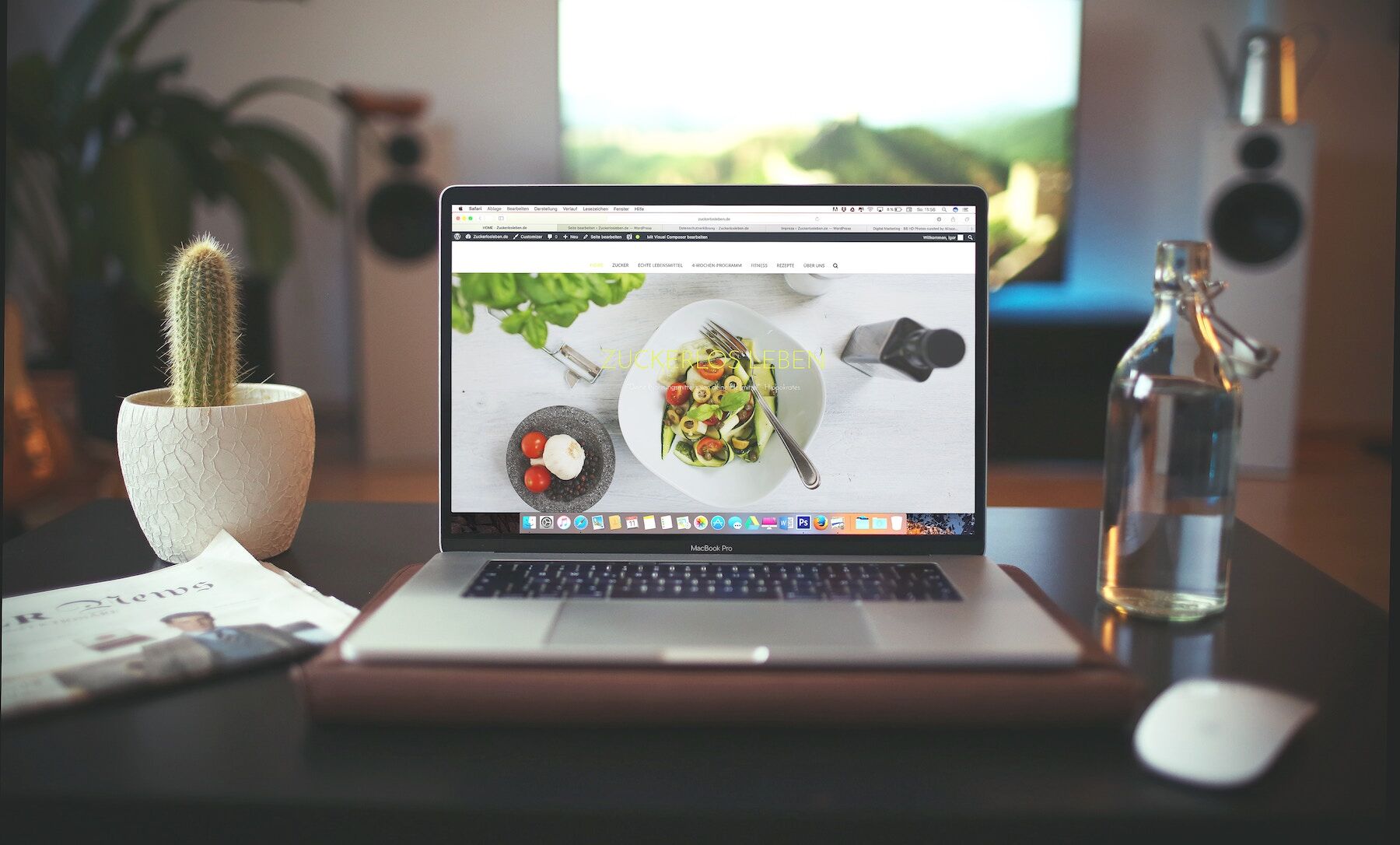 If you want to understand the debate then read on.
Why WordPress?
I've been using WordPress since 2009 and I'm going to tell you all the things I love about the platform:
1. You're In Full Control
I get sooo annoyed when I come across clients who have had their website developed on a platform that only the company who built their website can make changes to.
Not only is this situation costly, but when you need to go through a few hurdles just to make a change to your site, it does not encourage learning and iteration.
I must have developed over 15 websites and the vision I had for my new websites at the start, was not what I ended with.
Because you only learn what works and what doesn't when people actually start using your new website.
Being an open source platform, WordPress is totally flexible. You can pretty much do what you want with it.
2. There's No Ongoing Platform Fee
Once you have setup your WordPress blog, you don't need to constantly pay a fee towards the platform.
This means that your new blog start up costs are kept to a minimum and you can be free to think about something a lot more important, like growing your blog audience.
3. The Most Popular Platforms In The Market
Being such a popular platform means that you will never struggle to get tips and tricks on improving your blog.
There is an abundance of information out there when you're ready to step up your new blog.
Even if you want to hire a WordPress developer to help make technical improvements to the design or functionality, there are thousands of them available.
4. Designs Are Special
One of my biggest reasons behind choosing WordPress is that you can make your new blog totally different within a few minutes – all using a WordPress theme.
There are thousands to choose from, you can actually make your own blog for free or there's paid options too. With so many blogs in existence, you need to stand out and this is your easiest method to achieve that.
Don't worry, we'll talk about design a bit more below.
5. Functionality Is Intuitive
Understanding how to navigate WordPress does take a bit of time, but once you get it, it is super easy and intuitive to use.
To get you started, I'm going to show you how to create your first blog post. Past that, there's loads of youtube videos and blog posts to help you learn other things.
Why Not Use A Free Alternative?
WordPress, Blogger and Tumblr are the most popular free blogging platforms.
My top 3 reasons for not using a free blog platform are:
 1. You Don't Own The Domain Name
If you're aspiring to make this one of the biggest blogs in your niche with a highly engaged audience, you need to own your online presence.
Also, with a free blog platform your website's URL looks like:
yourblog.wordpress.com

yourblog.blogspot.com

yourblog.tumblr.com
Not the most beautiful URL, right?
 2. You Don't Own Your Blog
Similar to the above point, you don't have any control on your blog. It's hosted by another company and they can delete it whenever they want.
Do you really want to put your passion and potential life freedom in someone else's hands?
I know the cost of starting a new blog is why you might be looking at free alternatives, but you should be able to keep the cost as low as £5 to £10 a month.
Maybe one less coffee a week? Or, one less drink on a night out? Or maybe you could make lunch two days in a month rather than eating out?
 3. Your Hands Are Tied
Free blogs usually come with some limitations.
Some of the things that might limit you include:
storage space

videos may not be allowed

you are not totally free to monetise the blog the way you want.
Long story short, if you're serious about creating a blog that drives business, then start with self hosted WordPress.
7. Setup Your Blog On WordPress
Setup Your New SSL Certificate
Ok, we're going to get a bit technical, but I promise to keep it as simple as possible.
SSL stands for Secure Sockets Layer. Think of it as an extra layer of protection for your website's users. To enable SSL you need a SSL certificate.
SSL is also valued by Google, so if you want to get found in Google by people looking for your content in the future, then it's a good idea to add this from the beginning.
Did I mention it's free?
It's FREE. Explanation over, time to do some work.
Login to Siteground and click "My Accounts" and then "Go To cPanel".
Click on "Let's Encrypt" under the Security section.

Install a new SSL by selecting your domain in the domain drop down list and selecting "Let's Encrypt SSL".

The domain will now appear in you installation section.
Install WordPress Using Siteground
Go back to the cPanel page and click on "Wordpress Installer" under WordPress Tools section.

The WordPress installation page will then appear.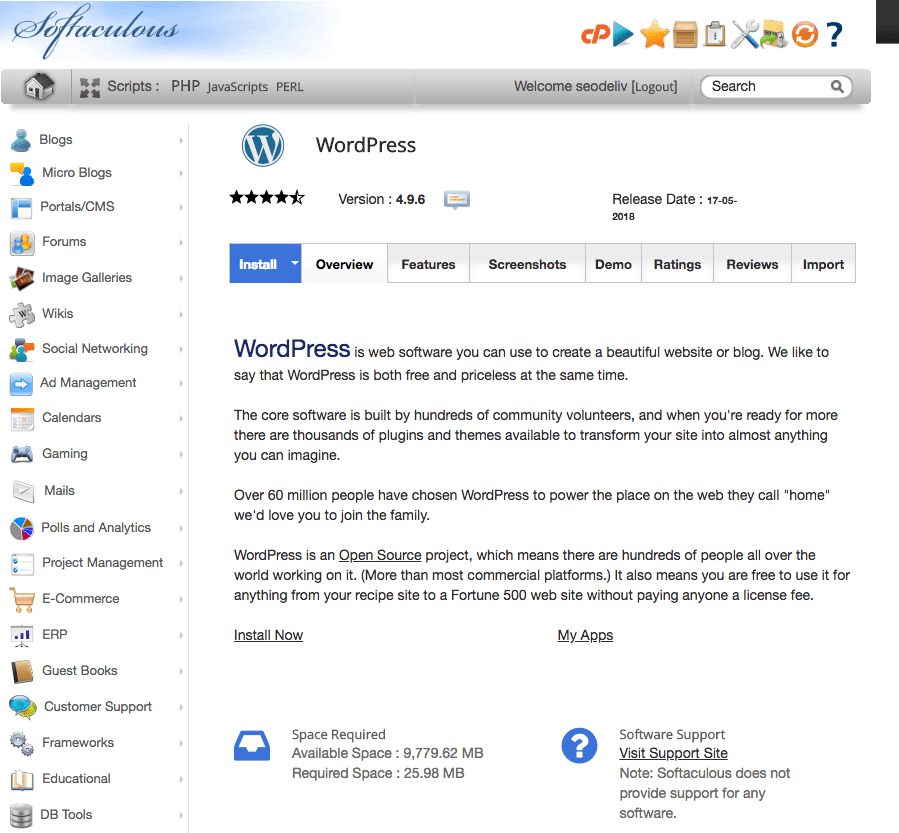 Click on "Install Now".
Fill in the details as per the below image and then click "Install"
Protocol: https://

Choose the domain you want to install WordPress onto

Site Name

Site Description

Admin Username

Admin Password

Admin Email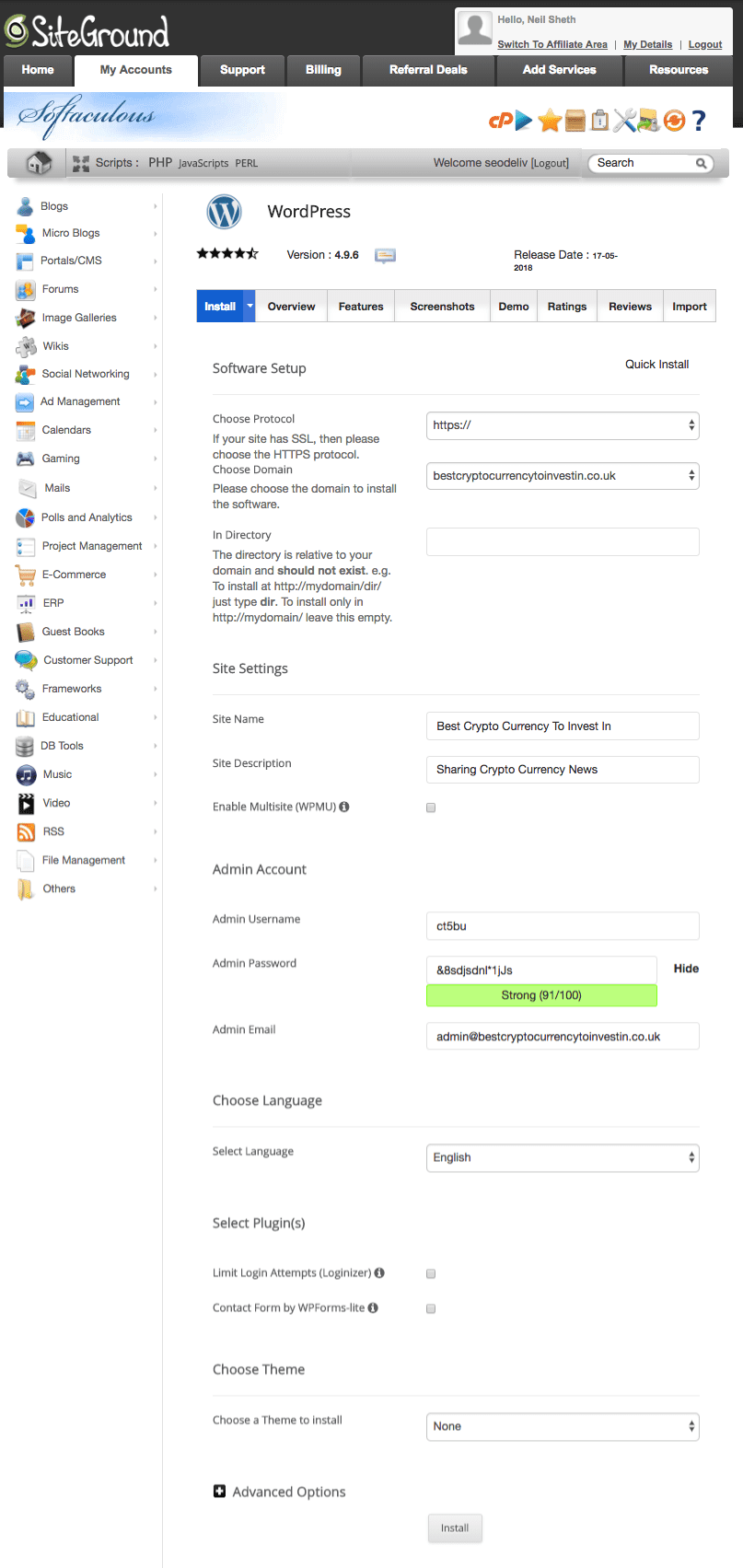 You should then receive a message confirming that the installation was successful.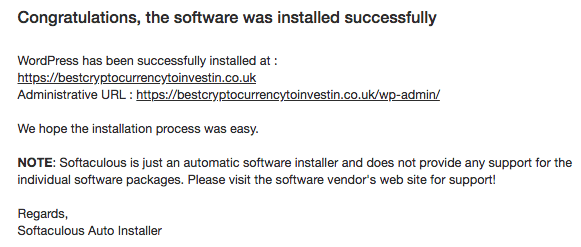 Make sure you add the "Administrative URL" to your favourites as you will be using this link very often.
Congrats, WordPress has now been installed!
8. Design Your Blog
Here's the part you have been waiting for – how to make your own blog look gorgeous.
Select A WordPress Theme
What I love about WordPress is that you can change the look of your site with a few clicks.
To do this, you just need to pick a theme that you like and then add that to your website.
What is a blog theme? A theme ultimately controls the layout and design of your blog.
Have you ever come across two totally different sites, which look very similar? It's because they are using the same theme.
Picking the right one for you is an important step as ultimately it's what your visitors will look at and remember.
There are free and paid themes available online. Granted, if you are looking for a custom design like our content agency or like this dating site it's best to get a professional designer in place.
Since this is your very first blog, I'd recommend using a free theme for now. You can always change it easily in the future.
First, let's see what your website looks like by actually navigating to the domain name.
For this example, I'm using a basic cryptocurrency domain.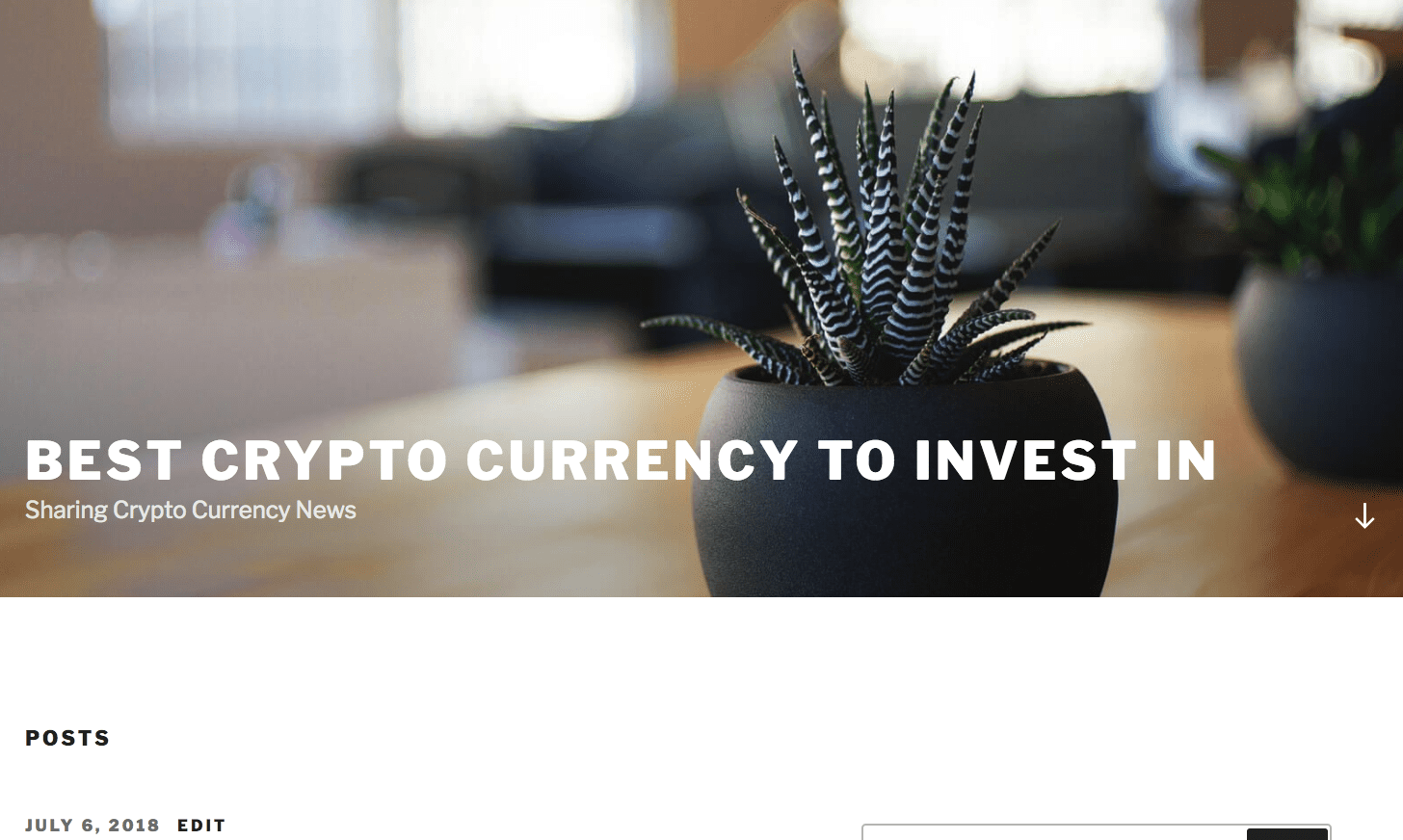 As you can see, it's a pretty basic design.
To change your design (theme), you need to first login to your WordPress site, which will take you to your dashboard.

Click on "Appearance" on the left menu.

You will see several themes already installed on your blog and for the purposes of this tutorial, let's pick "Twenty Fifteen".
Just hover over the theme, click on "Activate," and go check out your website.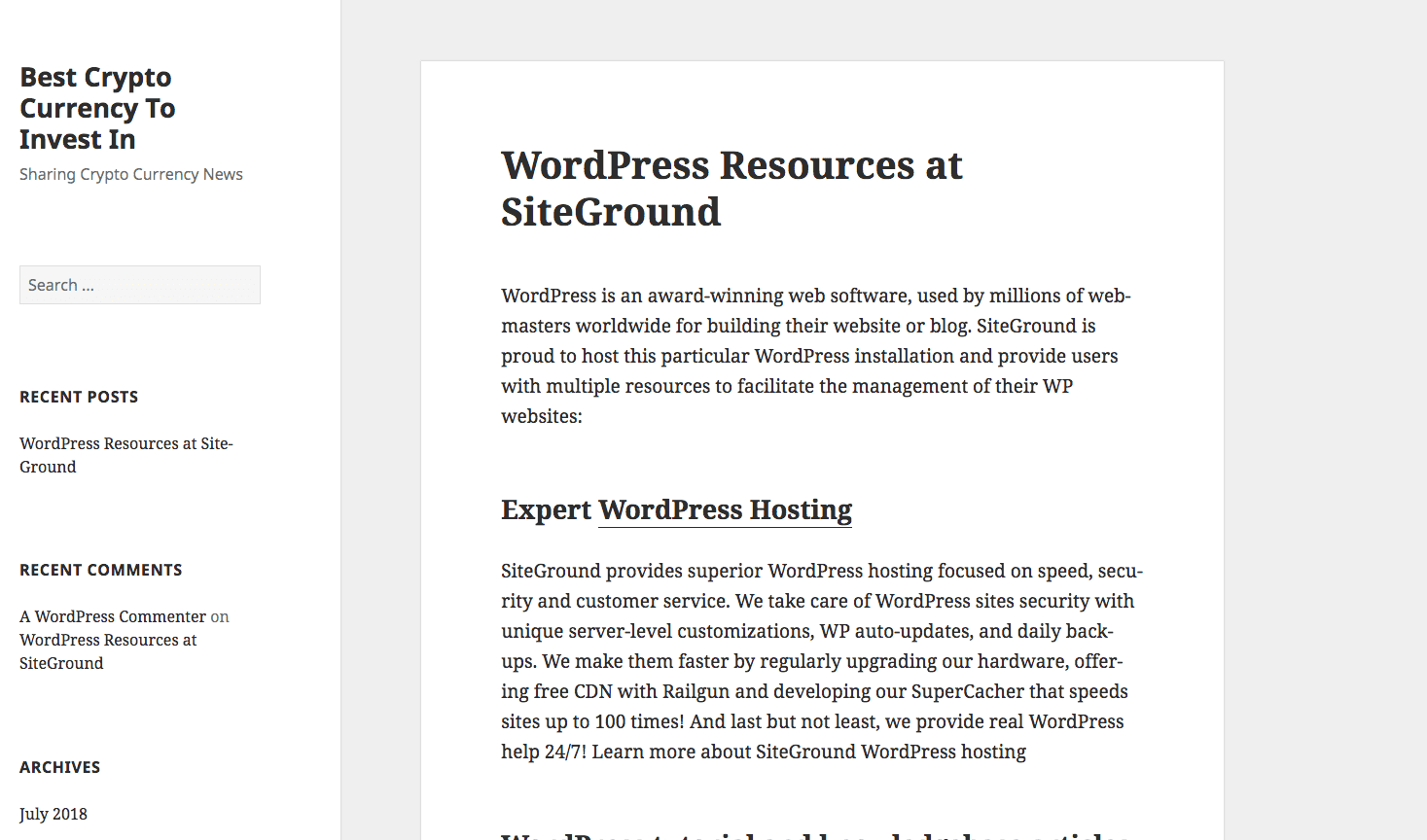 Totally different, right?
If you're like me, you're not feeling any of these themes, and you need a better one.
Easy, click on "Add New" and then choose "Feature Filter" tab.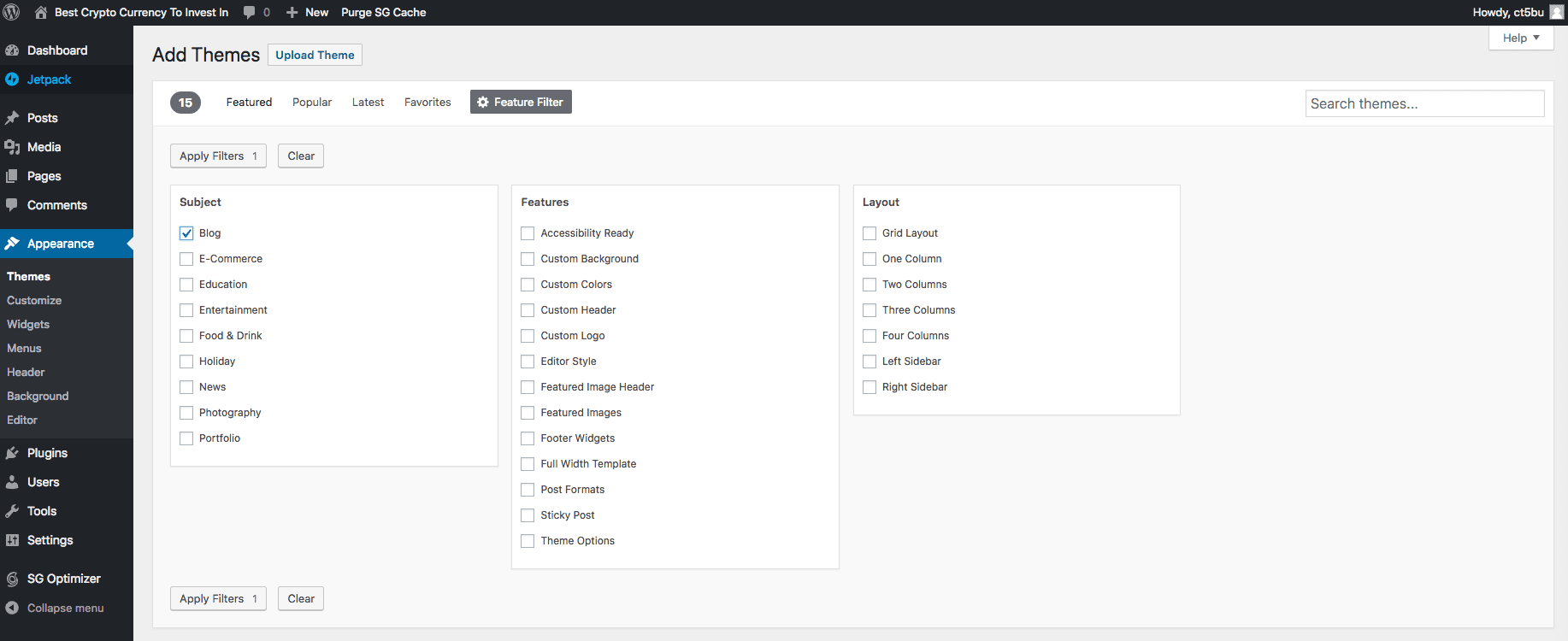 Make sure you select "blog" and any other features you want in your new WordPress theme.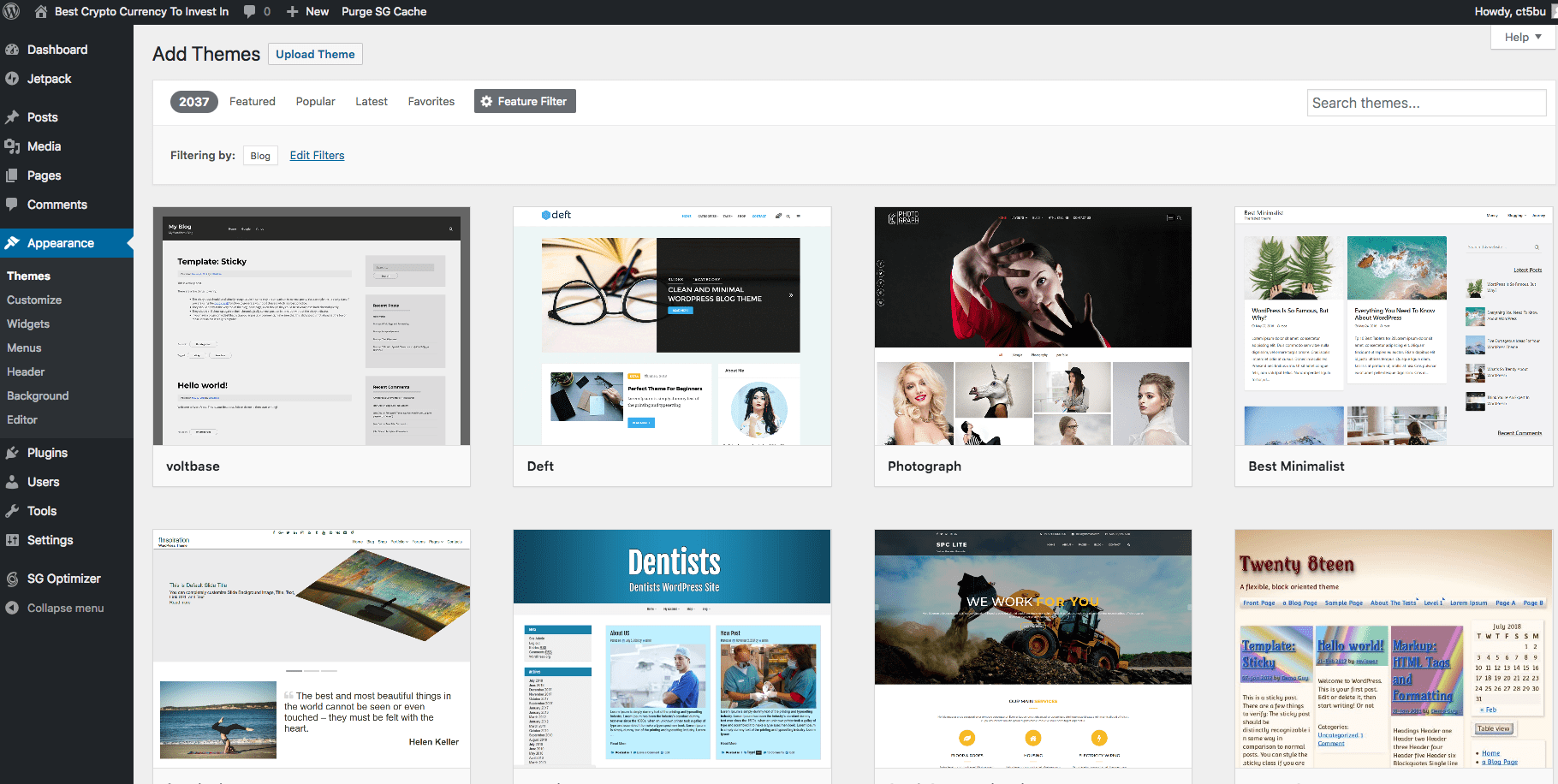 Now, you will see a much bigger selection of themes that you can test out for your new blog.
Again, once you have found a theme you like the look of, click "Activate" to see it in action.
In case you are still struggling to find a suitable theme, I'd highly recommend checking out Themeforest.
I've personally been using Themeforest for years and you will be spoilt for choice when picking a theme.
Quick Tip: make sure you use a theme that has a significant number of people using and reviewing it.
Customising Your Blog
There's loads of different ways to customise your blog, but I'm going to highlight a few things you need to focus on to help bring your baby blog to life.
1. Amend Reading Settings
Click on "Settings" on the left hand side and select "Reading".
The default setup is to show full blog posts automatically on the home page, but I'd rather give users a summary and let them choose which post to engage with before seeing the full details.
If you agree, then simply select "Summary".

2. Change Permalinks
A permalink structure is how you want your URLs to look for each post. It's a very important step towards optimising your website for Search Engine Optimisation (SEO) as the URL helps to describe what the page is about.
So, the permalink for my free SEO course is the exact URL of the page: https://yourbrandfound.com/get-found-in-google/
Setting up your permalink structure is a bit like organising your wardrobe. You know every time you do the washing you know where to put your socks, shirts, etc.
An organised website allows your users to find the information they want quickly.
Under "Settings" click on "Permalinks"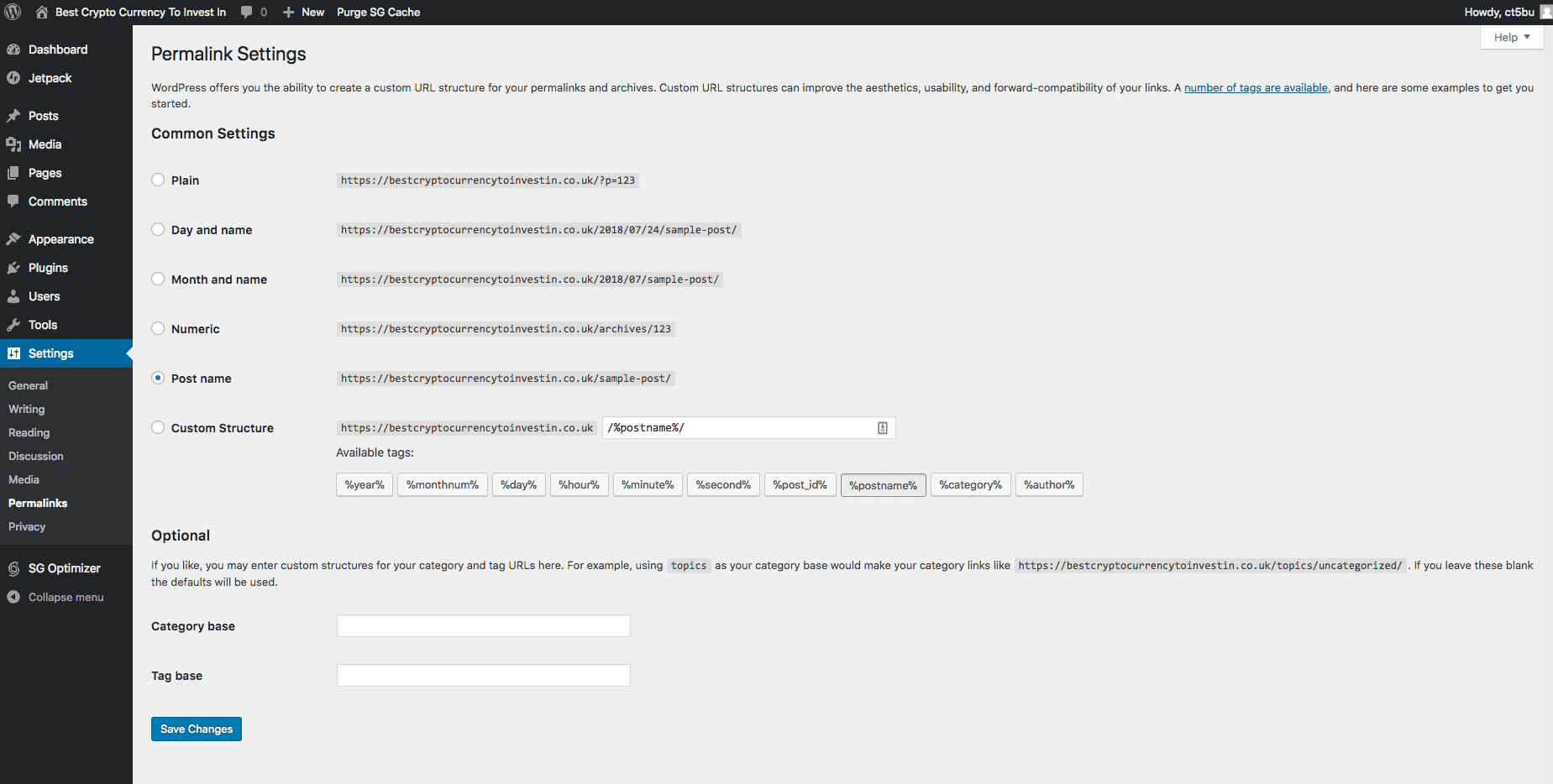 I recommend choosing "Post name", which will automatically populate the title of your blog post to the URL for the post.
You can always change the URL on individual blog posts, so don't worry if you have a really long blog title that you prefer not to include in the URL. This will just give you some structure.
9. How To Write and Publish Your First Blog Post
It's time to actually write and publish your first blog post. 🙂
Click on "Posts" on the left hand menu.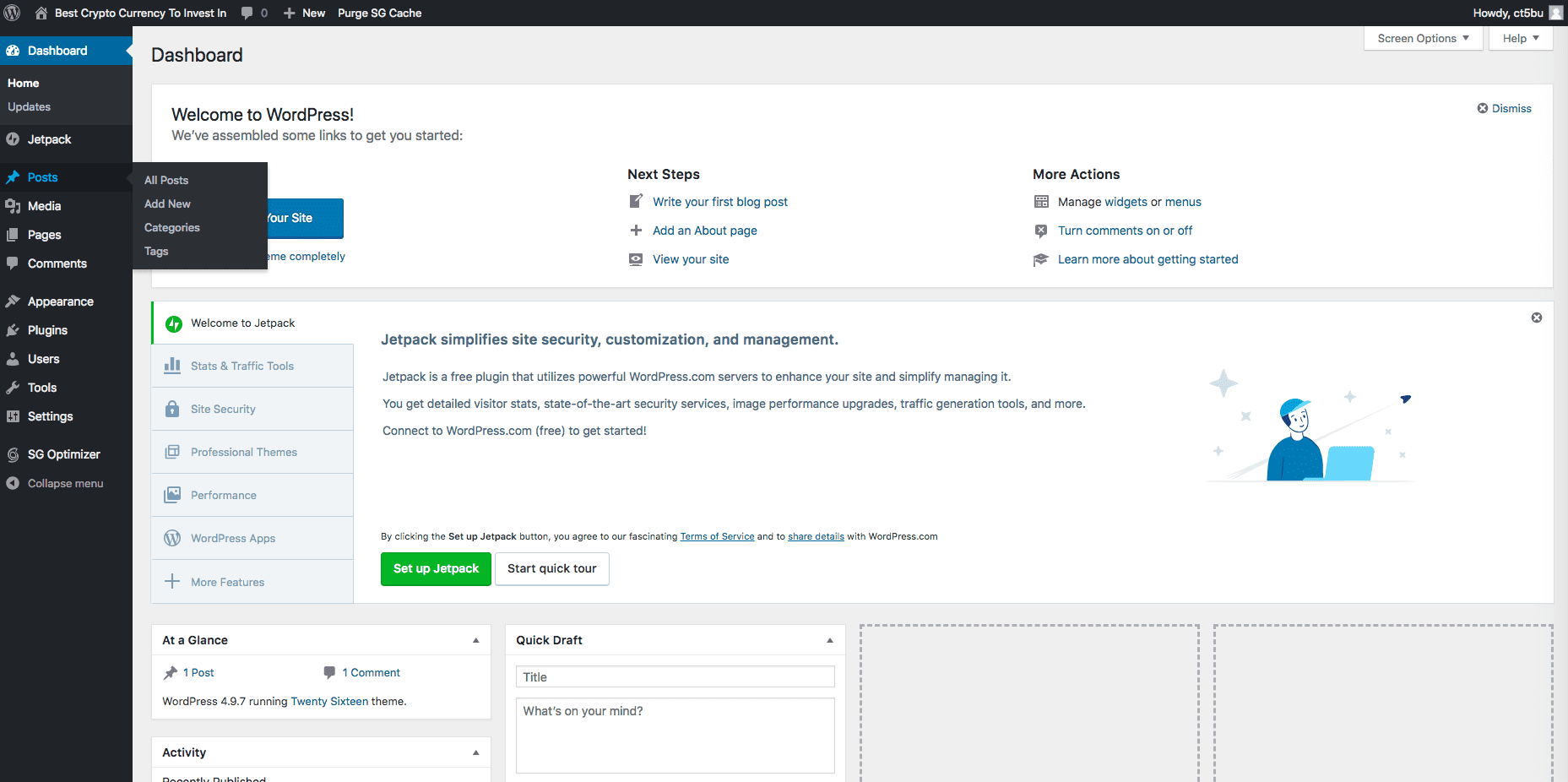 You will notice there is already a post in there, which comes with every new WordPress site.
Hover over the post and click "Trash" to delete it.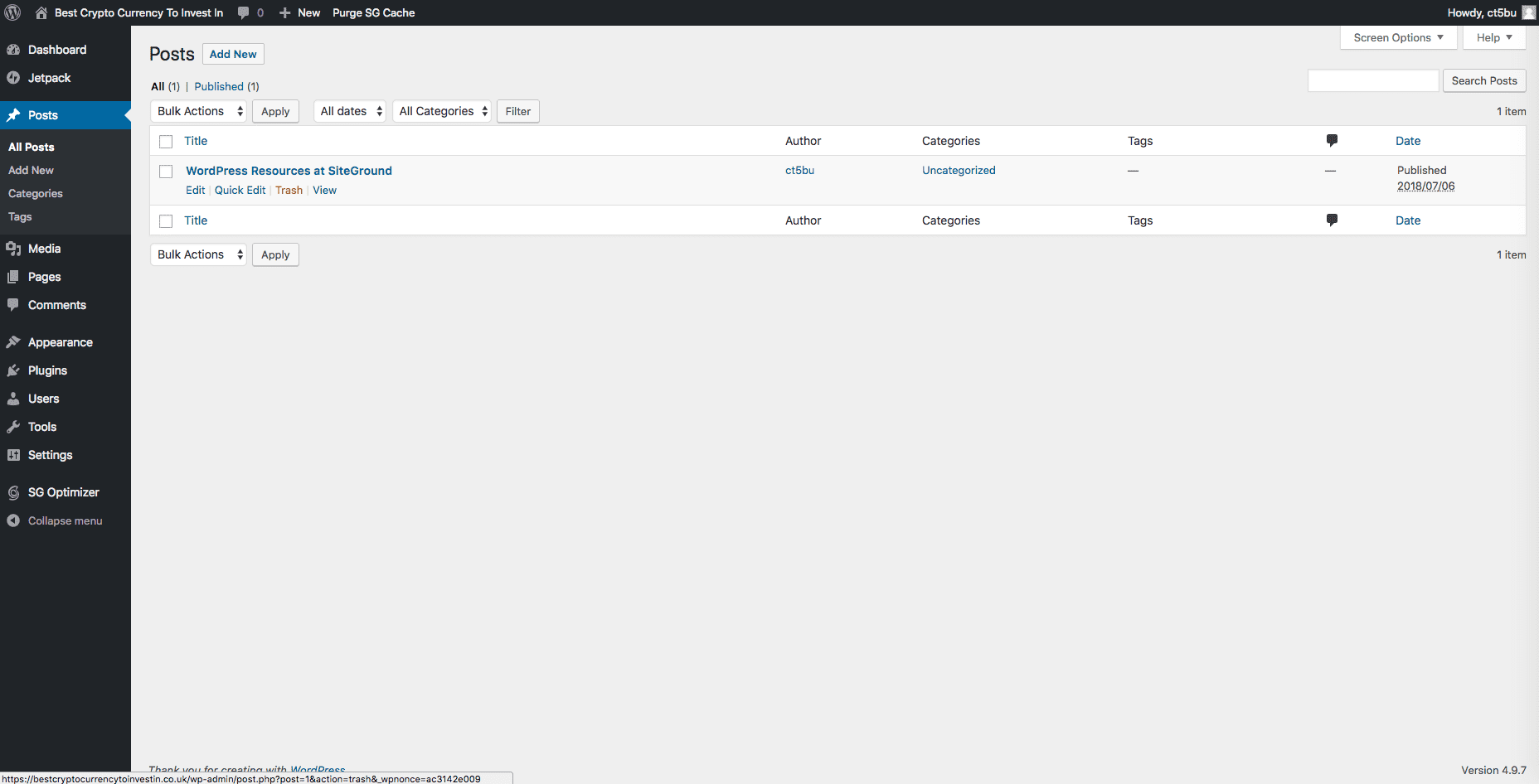 Now, click the "Add New" button at the top to create your first blog post.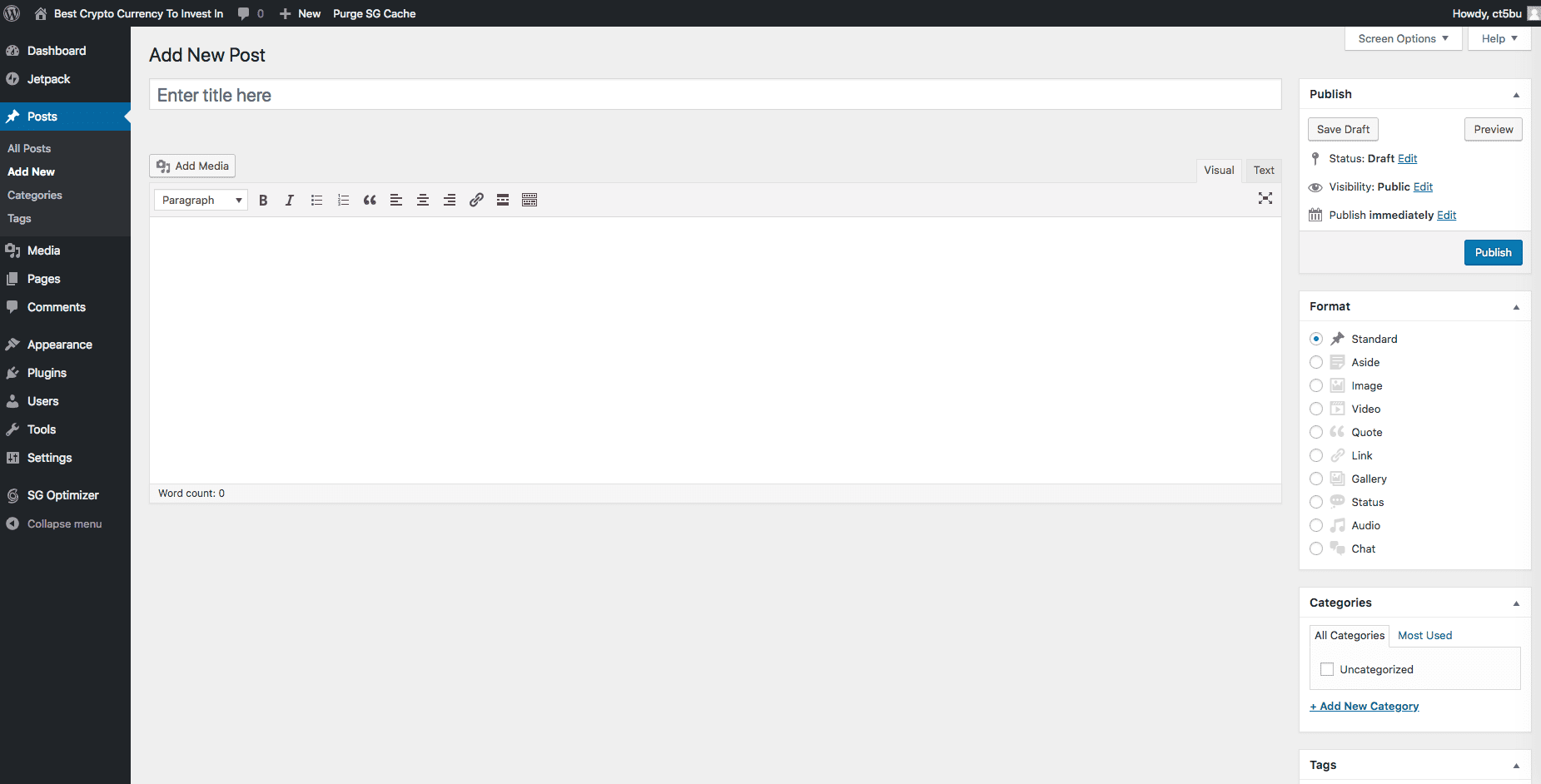 You can now add the Title to your post at the top and start writing in the big white box below.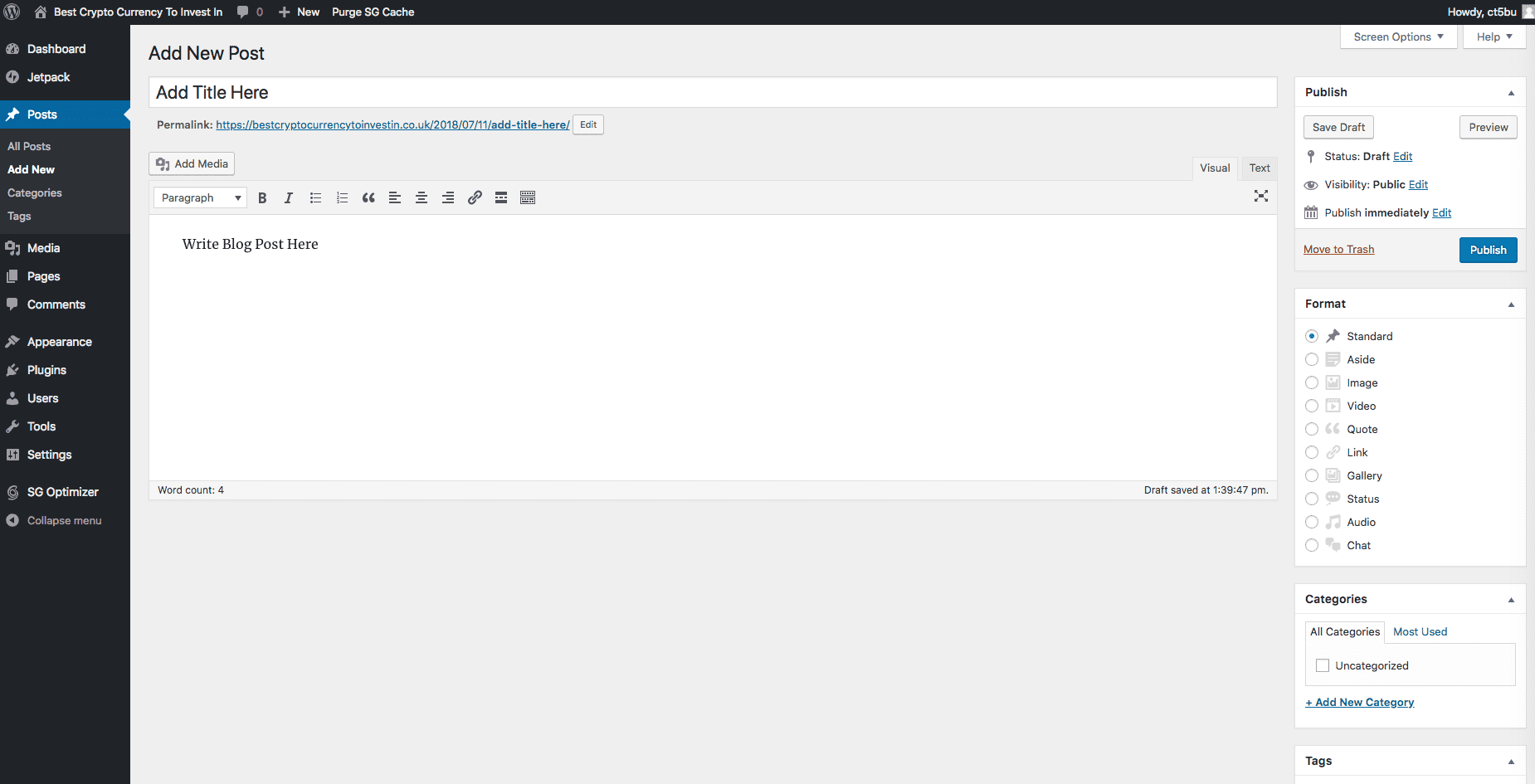 To add images to your post, just click on the "Add Media" button and then upload your image to WordPress before clicking "Insert Into Post".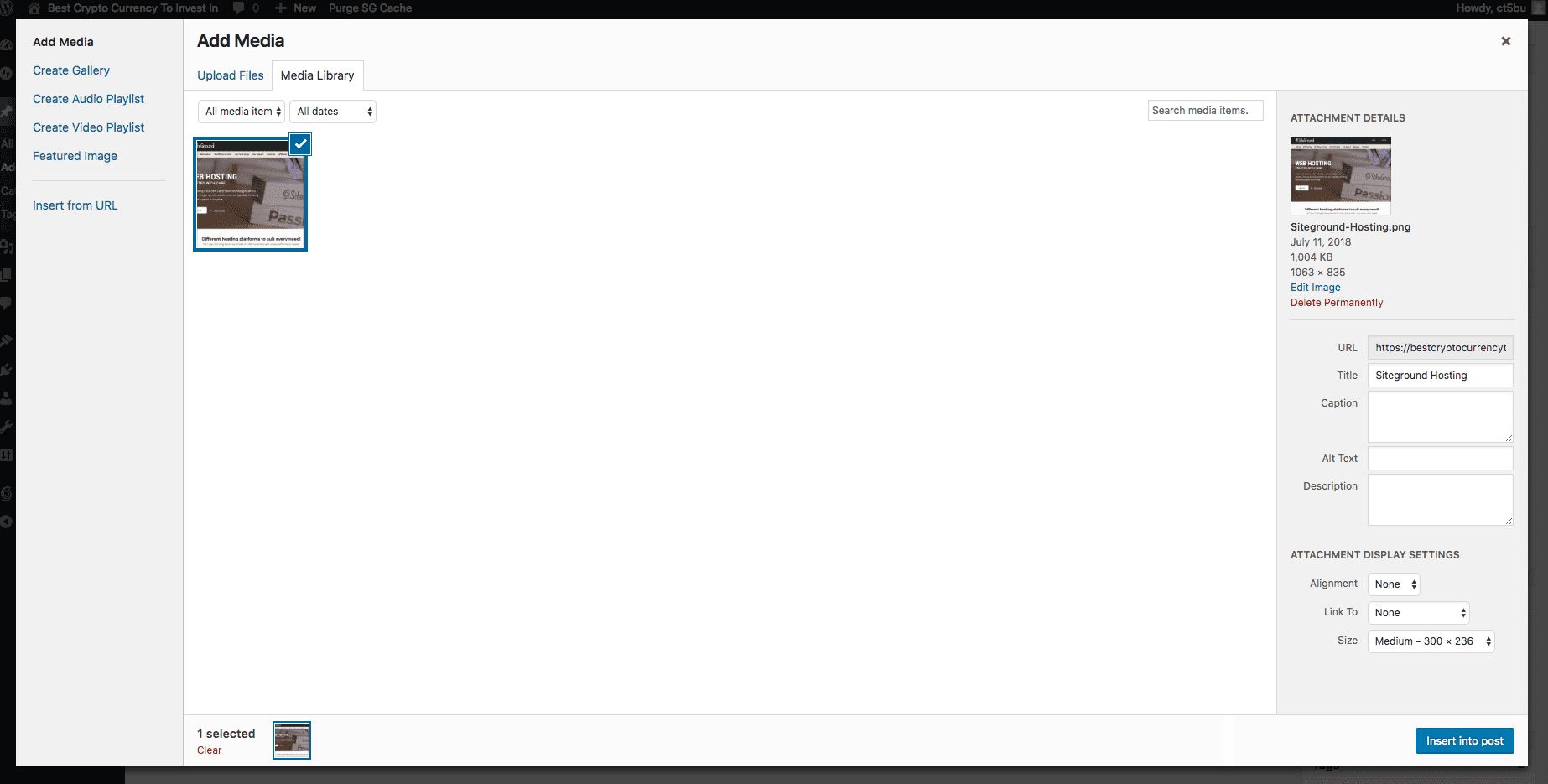 Quick Tip: I'd recommend writing your post on something like Google Docs or Word first and then copy the content across in one go.
Once you're happy with your draft post, you can publish it for the world to see. Click the "Publish" button on the right handside.
You should now see the post live on your website.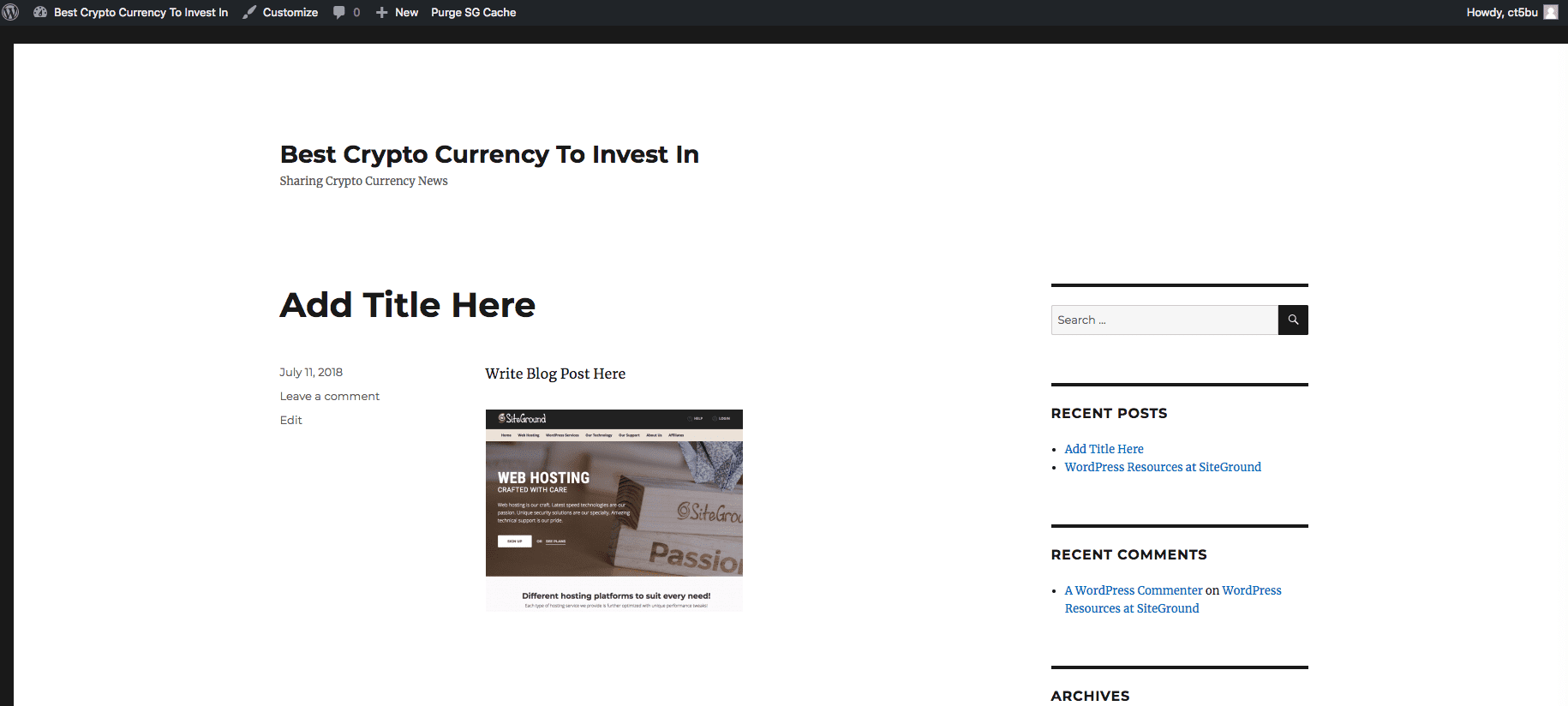 Excuse the design, as I clearly haven't spent any time looking for a suitable theme. I'm sure you blog looks much better! 🙂
10. Easy Blog Promotion Tips
A blog without readers is like having a music festival without an audience. In other words, what's the point?
Now, I know I said earlier that one of the reasons for creating a blog could be a way to channel your passion. But, let's be honest to ourselves: we all want people reading and sharing our content, right?
With that in mind, go check out my 5 blog promotion strategies and my post about getting 50 email subscribers before even blogging.
Closing
If you can get your blog in front of the right people and create an engaged audience, your blog will open doors you never knew existed.
Take the time last year when I was sent a bunch of gifts by Instagram on the back of a Instagram research post.
Or the numerous times I've had prospect customers reach out to me on the back of reading one of my blog posts.
Or when I was accepted by Huffington Post and other major publications to write for them after sharing content I've written in the past.
Feel free to share your new blog in the comments below.
Over to you now. Enjoy your new blog life!
Disclosure: This guide to starting your own blog contains some affiliate links. If you purchase a service through one of these links I may earn a small commission and is at no extra cost to you.