Are you a small business looking for online marketing ideas? Then this post is for you.
Digital ad spend is expected to grow 11.2% in 2019, reaching £14.73 billion ($19.64 billion). That's crazy, right?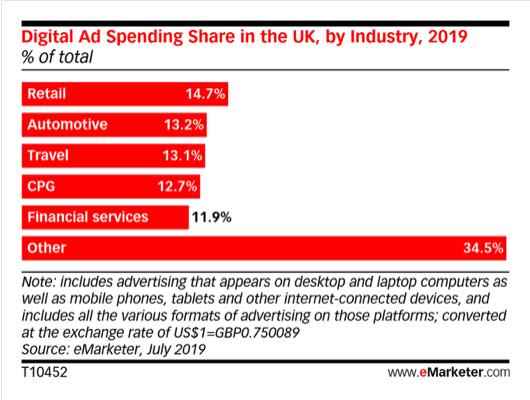 And this is only going to keep increasing over time. This is because businesses, both large and small, are seeing the opportunity the internet presents to get in front of new customers and increase revenue and sales. 
But don't worry, you don't need to worry about forking out loads of cash in online marketing. There are so many other inexpensive — even free — ways of getting in front of more people online.
I'm going to share some really cool online marketing ideas that will allow your small business to begin competing with the big boys — without spending the big bucks.
Let's get into it.
1) Secure your local listing in Google
If your business serves a local audience who are searching for your products and services,  you absolutely need to sign up to Google My Business.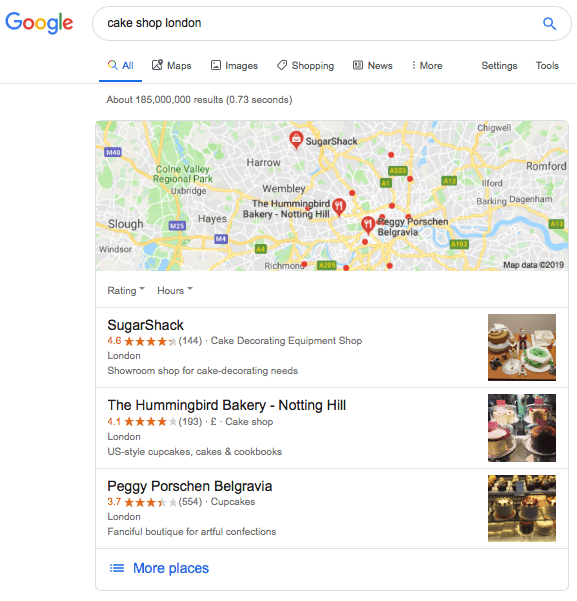 The closer your business to the person searching and the more reputable your brand online, the higher up the search results you will appear.
However, don't worry too much about getting higher at this stage. Just get started by signing up and adding as much information to your profile as possible.
It's crucial that your website and Google My Business profile match exactly. I'm talking business name, address, phone number, opening times — basically everything. Consistency is a ranking factor for Google. It's so easy to get right, but you'd be amazed how many businesses fail to do so!
This was actually an online marketing strategy that I applied to one of my very first businesses, which I still run to this day and which continues to acquire a regular stream of organic leads. It works!
2) Ask for reviews online
Now you've got your Google My Business listing in place, ask your customers to leave reviews.
You don't want to be that business — you know the one. The business that sits within a sea of competitors, all of them with tons of positive feedback and 5-star ratings, yet with no reviews itself.
Consider this lonely cake shop…
Who's going to click on that result?
The funny thing is, I actually love the cakes from Lola's Cake Shop and was recently spoilt on my birthday with a huge cake from their establishment. I would've left a review if they'd only asked.
As well as encouraging customers to click on your site and get in touch, customer reviews help to build trust with Google, as they will see a genuine business which is keeping customers happy. As a result, Google will be more inclined to show you up to prospective customers.
Online reputation is a hugely important aspect of growing a brand online. Asking customers to leave reviews doesn't need to be limited to just Google My Business. Depending on what your business does, you can ask customers to leave reviews on Facebook, TripAdvisor, BookATable, Yell, to name but a few of a multitude of directories.
3) Encourage user-generated content
Who are you more likely to trust, a salesperson, whose job is to encourage you to buy their product or service no matter what, or customers, who have no brand loyalty and are voicing their honest opinions?
Sites with user-generated content can increase online purchases (conversions) by 10%. These sites also experience a 20% increase in return visitors.
Therefore, if your product or service can be visualised, you need to encourage your users to take pictures or videos and share it with you.
Check out how Aerie asked users to submit their own untouched images with the hashtag #AerieReal. To encourage users to submit an image, the brand promised to donate $1 for every photo to the National Eating Disorders Association.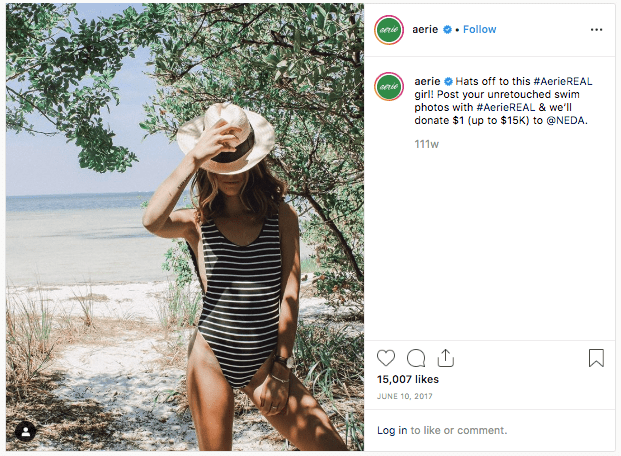 Source: https://www.instagram.com/p/BVI873AB_n-/?utm_source=ig_embed
4) Start blogging
Even if no-one finds my blog posts by themselves, I'll still consider the time I spent writing them time well spent.
Wanna know why?
Because in every sales call I hold for the digital marketing agency I run, I mention particular blog posts on our site that are relevant to that prospect.
For instance, last night I spoke to a potential client in New Zealand, who approached us to help with their SEO and content storytelling. In advance of the call, I sent her my post on the future of SEO in order to illustrate for her the fundamental aspects of SEO.
Prior to the call, she mentioned how much the post had helped her understanding of SEO.

Then, within 5 minutes of speaking on the phone, she read out one of the paragraphs in the blog, commenting that it was really powerful (her words, not mine!).
This is how you build trust with potential customers. Share your expertise. Blogging allows you to communicate with your customers at scale, without having to say the same thing over and over again.The fact that strangers the world over find my content and engage with it is a bonus.
The first goal is to create something that is going to answer potential customer questions. You can then work from that basis and think about your blog can help you stand out from the competition. The ultimate effect is to build trust with customers.
5) Speak locally
I know what you're thinking: 'This doesn't sound like an online marketing tactic…'
But it is. Know why? Because the internet makes it so much easier to not only organise a room, but to fill it.
We have amazing online platforms such as Eventbrite and Meetup that can help you get in front of your audience — without paying a penny. The best thing about these platforms is that they're full of people searching for events, who can therefore help fill the room during your talk.
Another strategy I've implemented in the past is to find local Facebook groups administered by people who run events. I've contacted them and offered to be a speaker.
When I left my corporate job in 2017, I made it my life goal to take every opportunity to speak. It worked.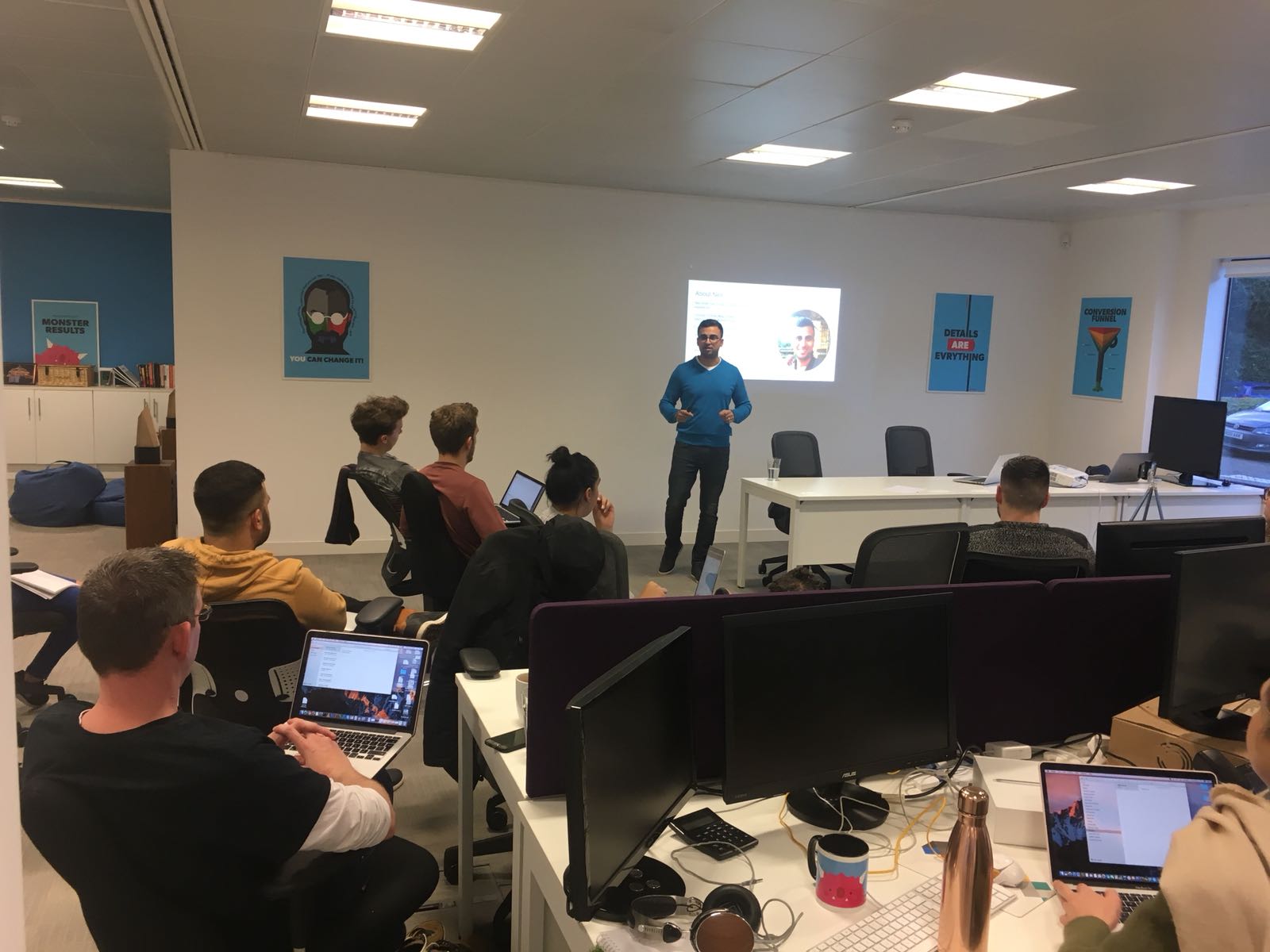 6) Organise a meet-up
As well as scouring Facebook groups, you can also use Meetup to create an entire community of people interested in your subject and who want to network with likeminded others.
This is not only a great way of subtly introducing your business and acquiring customers, but also to place yourself as an authority and go-to person, seeing as you are leading and organising the group.
A pretty good place to be if you ask me.
7) Get to grips with SEO
If this is your first time here then you probably won't know that I adoooooore SEO. I seriously love it sooo much! (I know, little bit OTT, but honesty is the best policy… right?).
I've been doing SEO since 2009 and, to this day, Google organic search continues to drive some of the highest-quality traffic to my website, as well as to clients' websites. I even created a free SEO course for people looking to take ownership of their Google rankings. On top of that, my agency also delivers in-person SEO courses in London.
…But I digress. You still might not actually know what SEO is!
SEO stands for search engine optimisation. It is the practice of optimising your website to get found in search engines such as Google and drive more organic (unpaid) traffic to your website.
I guess the main reason I really love SEO is that, when you have that epiphany and identify the ingredients of a successful SEO recipe, it actually looks very similar — if not identical — to a good strategy for building a brand organically online.
8) Instagram!
With over 1 billion monthly active users, of whom over 50% visit the platform daily, it's hard — and costly — to ignore Instagram.
You can easily put a face (or team of faces) to your brand, share interesting in-the-moment stories and get discovered. Instagram can be invaluable for small businesses.
Don't worry, your small business doesn't need to sell food or swimsuits in order to use Instagram. You can tailor your posts to your business's niche and specialisms.
Coaches

 

(e.g. business coach or life coach)

: share video tips and advice on your area of expertise.

Carpet cleaning service

: take pictures before the carpet was clean, then post an image afterwards.

Online baby clothes shop

: share images of your customers' cute babies wearing your outfits!

Interior designer

: comparison shots of run-down rooms, then the amazing results after you've implemented your designs.

Dentist

: before and after smiles!
Where relevant, do make sure you get your customer's approval before sharing.
9) Take full advantage of LinkedIn
As a B2B social channel, LinkedIn is a gold mine. The social media channel boasts over 500 million registered users in 200 countries. That number is only increasing.
But before diving into LinkedIn marketing, ensure you've fully visualised your ideal customer. Only then can you make the most of LinkedIn's capacity to hyper-target a highly specific demographic.
Once you know who you're targeting, it's time to get serious about using LinkedIn as a platform. Your posts are about to get a lot more views and shares. You may even see a spike in interest in what you're offering.
I post a lot of thought leadership content on my personal LinkedIn as a way of reminding my connections of what I do.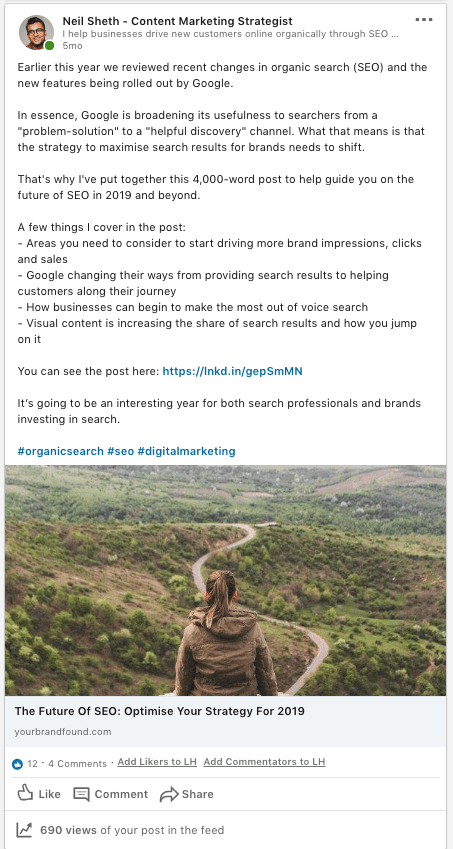 It works!

10) Google Ads
To secure a top spot in Google, you could pay for it by way of Google Ads. Whilst you would be paying for every single click on your website, this strategy guarantees that your business appears exactly when your ideal customer is looking for you.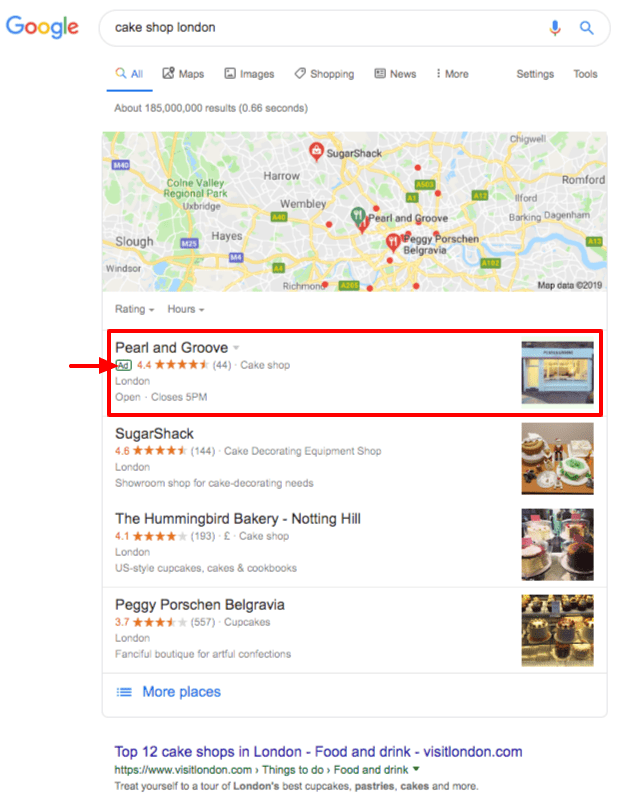 Our agency clients tend towards a combined strategy of SEO and Google Ads. This has the benefit of increasing overall search click market share.
Of course, any form of advertising will require you to know your numbers: average order value, cost per order, profit margins, and that's before you've even begun to account for projected Google ad costs. At the end of this projected calculation, if you are still making money on every sale then it might be worth running a 3-month test campaign.
11) Share for share
Got any business friends who are targeting the same customers but offering a different product or service? You might consider offering them a share for share.
What's a share for share? Simples. You talk about their business on social media and they talk about yours.
I use LinkedIn a lot and regularly comment on relevant posts within my network. A lot of the time we haven't even agreed a share-for-share strategy up front.
Essentially, where you aim to give, you will receive (look at me getting all philosophical).
12) Get i
nvolved in relevant Facebook groups
There are thousands of Facebook groups, serving every audience you can possibly imagine.
So whether you're an online purveyor of baby clothes, a local gardening service or knit hats for dogs, there's a Facebook group for that.
Check it out — this strategy still works fine for me!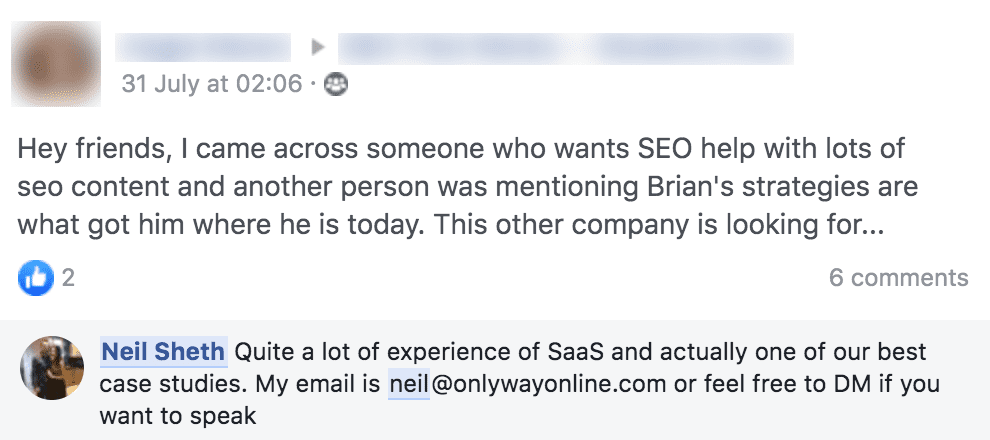 I had a sales call with the client and now my agency is being considered against two other SEO agencies.
Below is another cool Facebook strategy example, which occurred within days of the one above.

As you can see, Facebook groups can lead to more prospect calls, which in turn lead to more sales.
13) Sponsor a Facebook group
Sticking with the theme of Facebook groups, you could also sponsor a group.
To make this Facebook strategy work, your content needs to be 3 things:
Relevant

Authentic

Non-salesy!
This is exactly what the brand Elephant Atta did on my friend Nemash's Facebook group, What's For Dinner Tonight Mum?.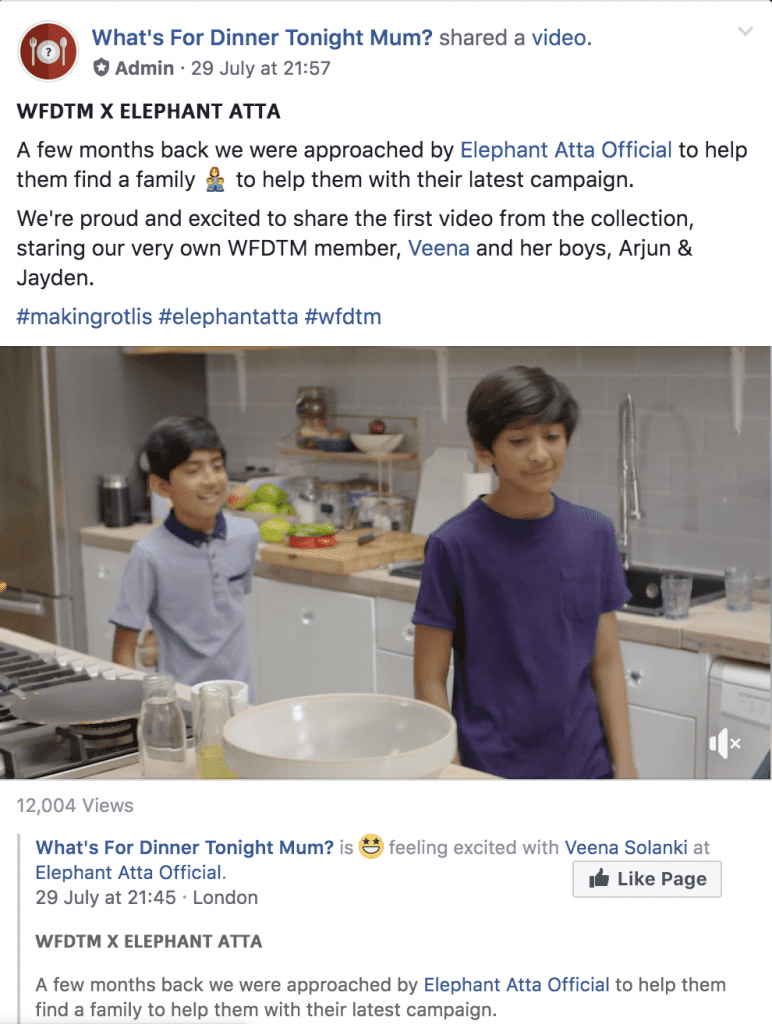 14) Give, give and give through email marketing
This week alone I've had two calls with people who are on my email list and potentially interested in working with me.
My secret sauce is not as special as you might think. Put simply, give value to your audience without expecting anything in return.
Not expecting anything in return is key here, because you will begin to enjoy being genuinely helpful as opposed to disappointed that you never get anything in return. And since changing my view on this, my business has grown.
People gravitate towards helpful people. By taking this approach, you position yourself as someone who is thoughtful, flexible and generous with your time.
This is why I enjoy creating content and helping my audience learn, because, at the end of the day, the people who get in touch with me actually need my help. The others are fine to carry on by themselves!
15) Emulate your customer's language in your copy
Is there a particular phrase your customers say when you speak over the phone or through email?
Including the nuances of your client's lingo in your website copy is a clever way of connecting with your visitors and showing them they are in the right place. They will know unequivocally that you are listening to them.
I've literally got a Google sheet with hundreds of rows where I store phrases my audience says online or to me in person.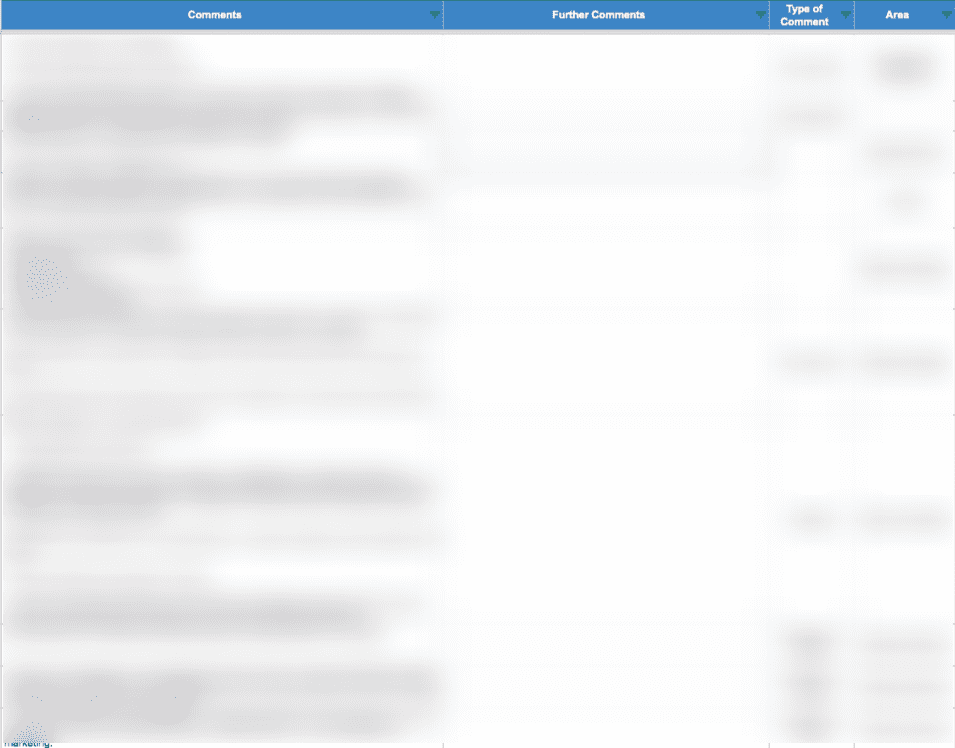 I'll often integrate interesting phrases into my website copy and even go through the sheet to help inspire new blog content ideas.
16) Become an online social butterfly
The goal around this tip is to build your network and profile across social media.
I still remember the first month after quitting my job in order to grow my digital marketing business. I was spending at least 2 hours on social media every day:
Researching and joining local Facebook groups.

Responding to posts and generally being helpful in the group to build relationships with members.

Initiating sales calls whenever I came across posts looking for a 

digital marketing consultant

 or SEO services.

Meeting up with members in the group and attending events.

Sharing content across Facebook, Instagram and Twitter.

Connecting on LinkedIn with people I have met in person.

Sharing my daily activities on Instagram stories.

Researching hashtags and content to get discovered.

Selfies with potential customers and new customers to share on social.

Creative graphics for social posts.
As you can see, there are plenty of things you can do to become a social butterfly.
17) Run a personal brand photoshoot
Personal brand photography involves a photoshoot that helps to bring out your brand's personality. If you want to give your customers a great first impression, you need to invest in high-quality images.
What makes your business unique is you, so why wouldn't you want to maximise the one asset that no-one else can possibly replicate?
Plus, the brilliant thing about a brand photoshoot is that you only need to do it once and you have months and months of image content for your social media channels, your website and any other things you need some creative media for.
I've used my photoshoot assets in multiple places online. I should have photoshopped the white hair out though!
18) Amazon
If you are an ecommerce business, Amazon can help you get in front of a huge audience almost immediately.
The downside? You pay large fees on every sale. That said, if you're still making a profit on every sale, Amazon could be a very good short-term online marketing strategy for your business.
Right now, we're working with a client who manufactures notepads. We are helping them get on Amazon. Whilst their online shop will grow in sales through the digital marketing work we are doing, Amazon will also bring in another income stream. Be everywhere!
19) Freelance websites
Offering a service?
Check out freelance websites such as Upwork, PeoplePerHour and Fiverr. Similar to Amazon, these kind of sites already have an existing brand, as well as an audience who may well be looking for your product or services.
So, whilst building your presence online with a handful of online strategies, you can also start driving potential customer conversions immediately using freelance websites.
20) Write for industry-recognised publications and blogs
Another credibility and audience-building strategy here.
Writing for industry publications and blogs can automatically elevate your brand, enhance your online authority and, more generally, increase the number and quality of conversations with customers.
I still remember the day I wrote for the Huffington Post (showoff)…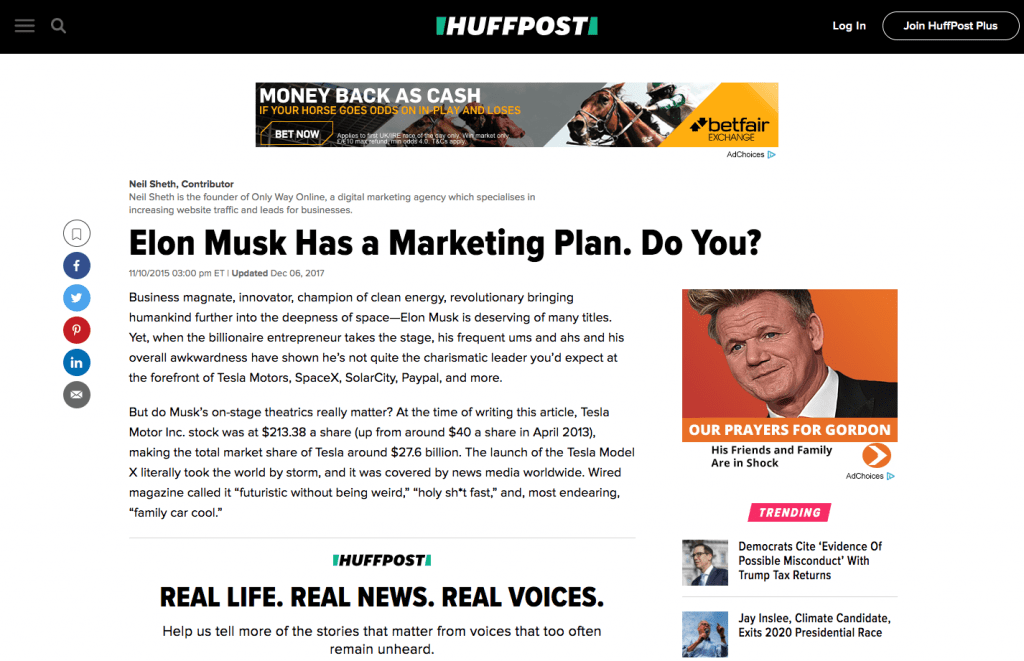 I ran around the house messaging my friends and family when the article went live.
The mistake I see so many people make is that they write for a particular site — then stop. They do this because that one article has led to no additional sales or even email subscribers.
But this is the wrong mindset to have.
First off, you need to do at least 20 articles before making a judgement call!
Secondly, you may be focusing on the wrong metrics. Writing for industry sites should be treated as a long-term brand strategy,. What we often see when speaking to clients is that they are using short term KPIs, such as leads or sales, as their metric.
Instead, I'd rather look at broader benefits and KPIs that are a better match for this marketing strategy. KPIs such as SEO authority and the number of industry authority posts.
The reason I'm never disappointed after being published online is that I generally bring those articles up in my conversations with new customers, not to mention the fact that they help to increase my conversions to sales.
21) Offer a small online solution to a very specific problem
A key benefit of having an online marketing strategy for a small business is to help optimise resources for value-added activities.
If you are spending a lot of time answering the same questions or explaining why your products and services beat your market, you can actually save even more time — and increase sales conversions quicker.
For instance, I used to spend a lot of time explaining the benefits of SEO, until I created a free SEO course. I even offer a paid on-page SEO optimisation guide if the user wants to take it to the next level.
Now, not only am I saving time on having to explain SEO in detail, I'm making sales without any involvement.
So, what questions are you asked regularly that you could actually create some online content around?
How about teaching your audience how to solve one part of their problem and move them closer to their overall goal? You can offer this for free or at a premium.
22) Target a foreign language
Do you have people in other countries and languages searching for your products?
Well, it might be time to translate your content to improve your chances of getting in front of them at the right place (usually Google) and the right time (i.e., when they search).

This is also referred to as international SEO, and I've put together a beginner's guide here.
Because of my Indian background, I've always wanted to grow the business in India. That's where this strategy of targeting a foreign language and country comes in.
23) Websites should be iterative
A website should never be treated as a one-off exercise. For example, over the past 4 years I've redesigned my agency website three times.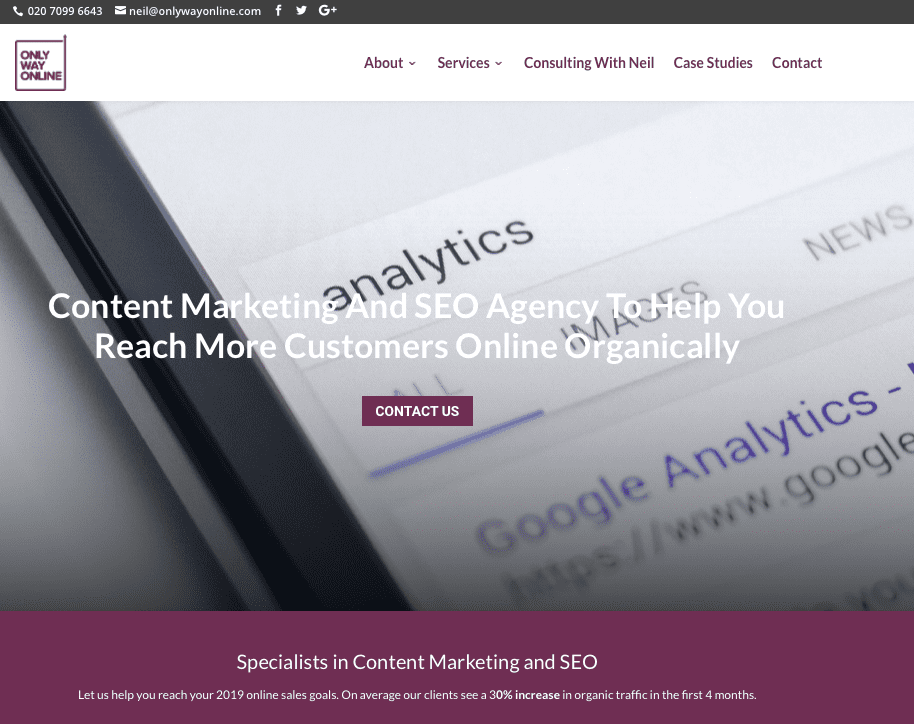 And guess what? We're going through another redesign and rebranding the company.
Why have we redesigned the website so many times?
Removed services our clients were not interested in.

Made a bigger point of online marketing strategies that clients were paying for.

As we got to know our target audience better and the phrases they used, it made sense to update the copy.

My wife hated one of the previous versions of the site and, to be honest, I had no choice but to make amends…

Calls-to-action were confusing and could have been much clearer.

Identified opportunities to improve the SEO.
Generally, new ideas and ways to improve the website never stop. That's just a fact of life.
I know, there's quite a lot here to think about…
But, you don't need to do everything.
So, which online marketing strategy do you use for your small business? Just pick one or two of the strategies you are most comfortable with.
It doesn't need to be more complicated than that. Online marketing is a constant learning curve. You just have to get started somewhere to begin riding it.