Last month, as I was doing a little research for a project, I happened to come across a business that caught my imagination. With very little information about the brand itself available online, I did what any discerning consumer would do – I checked out their online reviews. 
I'd hoped to uncover some social media content that inspired me to dedicate my heart and wallet to this unique business. Sadly, this wasn't the case. As for the reviews, sure, there were a lot of solid comments. Seemed legit. 
But one awful review in particular from a disgruntled customer spoke far louder than the scattering of four and five-star ratings. Worst of all, the review hadn't been responded to by the company. 
So, what happened instead? Other potential customers asked further questions, and this disgruntled reviewer was more than happy to lambast this brand up and down to anyone who would listen. 
Including me. 
I chose to take my attention (and money) elsewhere. 
Have you ever experienced this? I'm willing to bet you have. 
Reputation Management and Your Brand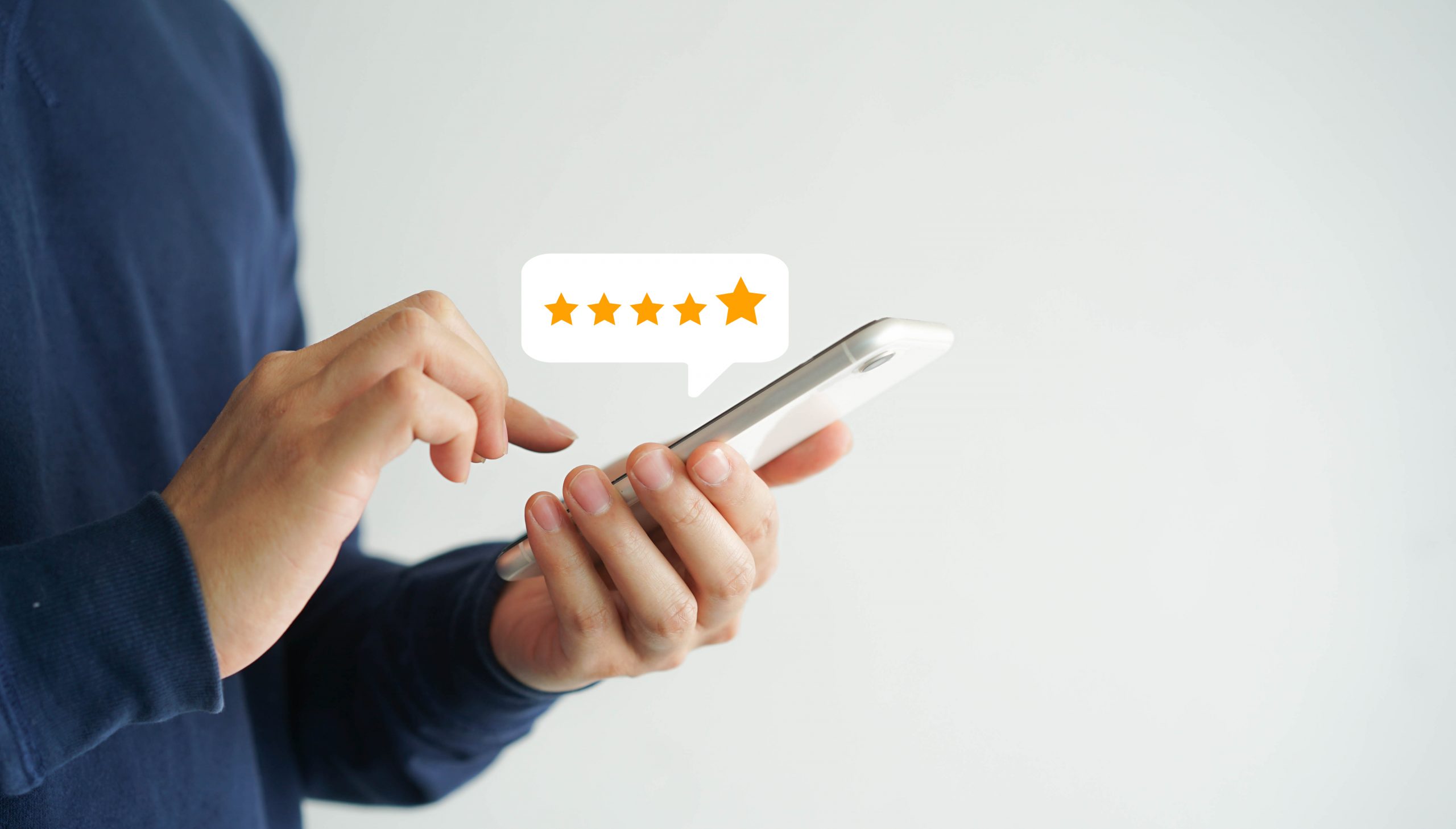 As someone who lives and breathes telling the stories behind the brands I work with, it broke my heart to see a potentially huge business lose control of its own narrative like this. 
Multiply my experience by several thousand, and you're getting an idea of just how damaging poor reputation management can be to potential new business. 
It's our responsibility to keep control of the narrative of our brands. And if we don't? Negative customer reviews and comments will create one for us instead. 
What Is Reputation Management?
In a nutshell, reputation management refers to monitoring, maintaining, or responding to public perceptions regarding your brand, both negative and positive. 
Good reputation management strategies will not only respond to potentially damaging online conversations and comments. It'll also seek out opportunities to build on positive ones in order to build more brand awareness, loyalty and trust. 
Think of reputation management as a way of keeping in control of your brand's narrative. 
Online Reputation Management: The Facts
Negativity will always reach more ears than positivity. It's unfortunate, but it's just human nature. Whether it's something as every day as finding a great local takeaway, or as important as choosing where to get life insurance, one poor review can topple the buyer journey quicker than a freelancer logging off on a Friday at 5 pm. 
Think a few bad apples can't spoil your brand? These statistics may change your mind: 
85%

 of customers do online research before making a purchase

70%

 of complaining customers will return to a business that resolves their complaint

58%

 of executives believe that online reputation management is important

Only 

15%

 of those businesses actually do anything about it
The numbers speak for themselves. After all, if your business doesn't seem engaged enough to monitor their online feedback, how is a customer expected to trust you to deliver a quality product or service? 
Online Reputation Management Channels
Reputation management doesn't mean immediately going on the defensive in the comments section. In fact, this can sometimes be just as damaging as a poor review. Instead, it's about implementing a few straightforward but effective reputation management strategies through some familiar channels.
Earned Media Channels 
These include most external channels that mention or refer to your brand. The most prominent areas for customers to give feedback here are through online review sites. 
Below are the mainstays of earned media online reviews, where customers are more likely to discuss your brand, whether positive or negative: 
Glassdoor

Google My Business

Trustpilot 

Yelp
While these earned media channels are essential to include in your reputation management strategy, it's important to remember that other external channels like blogs, review articles and online industry-specific forums are also influential in a buyer's decision-making process. 
Owned Media Channels
And of course, owned media is your own website, blog content and social media channels. While owned media is your own turf and allows you to set the narrative of your brand, it isn't always the first route a customer takes when making a decision about giving you their business. 
At the very least, your owned media content should be consistent with the core values and tone of voice of your brand across the board. If that sounds tricky, it's because you haven't mastered some key questions about your own business. 
Don't worry, we'll come back to that later as it's imperative that you understand what makes your brand unique. 
Shared Media Channels 
Any content that refers to or specifically mentions your brand that's posted on social media falls under this category. And this is where we see how important keeping up to date with hashtags and searching for mentions of your brand can be. 
Why? Well, apart from ensuring your brand reputation isn't being dismantled without you even knowing, the customer comments you find may surprise you. Even if it's negative. Consistent comments, whether good or bad, help you to better understand what's working, and more importantly, what isn't. 
Online Reputation Management Strategies
It doesn't matter if you're a small startup that manages everything internally, or a larger scale company looking to work alongside a team of reputation management consultants. What does matter is that you understand this process is not a 'one and done' deal. It's a constant process that's integral to successful modern marketing.
The greatest piece of advice I can give business owners when it comes to their reputation management? Learn to love the process and think of it as mining through the dirt to find those golden opportunities. 
Embrace three simple steps for an effective reputation management plan that'll keep your brand prepared, focused, and ready to turn problems into conversions in no time.
Reputation management plan step 1: the setup 
Why put all of that work and effort into honing the story of your business to get your brand found, only to let it slip through the cracks because of a few unanswered reviews or queries? It's time to set up a game plan. 
But before we can conquer, we must first claim. Make sure you're in control of your Google My Business page. Ensure your content has the best keywords possible to dominate search engines. Use a social searcher tool and get Google alerts in order to be kept in the loop whenever your brand is mentioned. 
While it may be hard to do at first, this is where you need to listen and consume the feedback around you without a response. 
Reputation management plan step 2: the research 
One of the most rewarding parts of helping brands to achieve their goals is digging through forums and comments sections and uncovering a key issue or selling point that we can use to our advantage. 
In other words, sometimes you need to get in the mud in order to keep your business reputation clean. 
Explore industry forums. Make a list of key problems and positives. Both are equally important here. Look at ways to encourage customers to leave you a review or some feedback in your emails and blogs. 
Be humble enough to take on board constructive criticism, but set limits as well. A stubborn brand that can't admit fault is not a good look. However, a brand that's too apologetic and quick to change its tone of voice to suit a vocal minority can appear cheap and flaky. 
Reputation management plan step 3: execution 
With these first two steps in place, you can now begin to respond to negative comments and bad feedback. 
While it isn't easy to read negativity about a business you've poured your heart and soul into, you'll find that the majority of customers just want to be heard and understood. 
Be wary of using short and snappy sentences that can be construed as being annoyed with the feedback. Attempt to build a bridge by offering to discuss further with them privately in order to get more information and resolve the issues. 
Finally, be sure to encourage that frustrated customer to comment again if there's a resolution. Customers love to see an issue resolved and a frustrated buyer heard. It's a small thing that expresses a great deal of class when it comes to your brand. 
Questions to Ask Yourself
If you've struggled with maintaining a consistent tone in your responses across your online channels of communication, it's time to revisit some very simple but extremely important questions about your business. 
Answer the following: 
1. Can you describe your company tone of voice in 3 words?
2. Can you name at least 3 brand values that your business holds dear? 
3. Is your website making promises it can't keep?
4. Are you up to date and consistent across all methods of content? 
5. If you see a consistent complaint across the boards, have you acknowledged it?
6. What steps have you taken to fix this issue?
7. Have you communicated it to your followers online? 
8. Look at yourself from an outsider's point of view. Would you trust this brand? 
Reputation Management: Protecting Your Business and Building Trust 
In business, there's a positive to be found out of any situation. So look at this as a chance to learn and grow as a brand. I have a saying that I use a lot with my clients and employees – celebrate the failures as well as the successes. 
Failure is fine, as long as you learn from it and apply its lessons in a productive way. Remember that no one expects perfection. It's all about how you relate to a customers' feedback and the way in which you choose to reply. 
Admitting fault can be a powerful thing at times. Believe me, I know something about that first hand! Mistakes are human, and nothing can humanise your brand like an honest and open approach. Master that, and you'll soon be the master of your own fate, and in control of a narrative that leads you to success, new business, and a solid gold reputation. 
Do you have a business you believe in but can't quite get a hold of your content and brand narrative? The team at Writefully are always willing to help put powerful, human-led content into action for you!
Feeling inspired to take control of your reputation management? Be sure to check out my other blogs for even more marketing insights, tips, and advice.